IPad apps for learning
10 Good iPad Apps to Facilitate Students Collaboration
January 15, 2014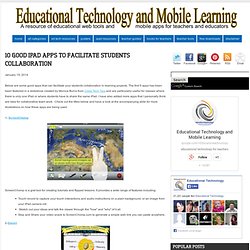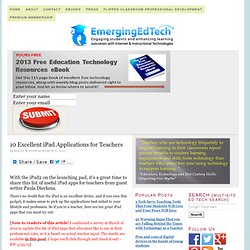 With the iPad2 on the launching pad, it's a great time to share this list of useful iPad apps for teachers from guest writer Paula Dierkens. There's no doubt that the iPad is an excellent device, and if you own this gadget, it makes sense to pick up the applications best suited to your lifestyle and profession. So if you're a teacher, here are ten great iPad apps that you must try out:
Thanks for the insight! I am an elementary education major and this information helps a lot! Just a tip for you, it is so important to have an iPad case to protect kids' iPads. A new company called Domeo Products just launched and I checked them out at www.domeoproducts.com. I am very impressed with the iPad cases I saw! by leahblachaniec Dec 1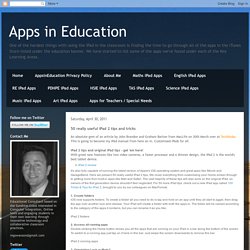 An absolute gem of an article by John Brandon and Graham Barlow from MacLife on 30th March over at TechRadar. This is going to become my iPad manual from here on in. Customised iPads for all iPad 2 tips and original iPad tips - get 'em here!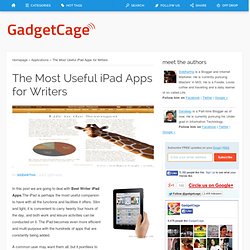 In this post we are going to deal with Best Writer iPad Apps.The iPad is perhaps the most useful companion to have with all the functions and facilities it offers. Slim and light, it is convenient to carry twenty four hours of the day, and both work and leisure activities can be conducted on it. The iPad becomes even more efficient and multi-purpose with the hundreds of apps that are constantly being added.
Writing Apps for iPad | Best Useful iPad Apps for Writers
More App Info description & screenshots Free TeacherPal by ITWorx Since taking attendance and keeping a gradebook is a regular task for all teachers, having a great solution on your iPhone or iPad is a must. This simple, effective, free, universal app belongs on every teacher's iDevice. Take attendance; track grades and behavior for your students. Set up a profile for each student that can even include information such as allergies. You can email parents and/or students directly from the app.