IPad apps for learning
10 Good iPad Apps to Facilitate Students Collaboration. January 15, 2014 Below are some good apps that can facilitate your students collaboration in learning projects.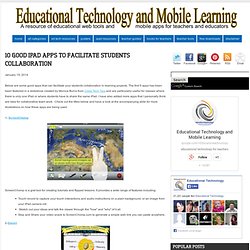 The first 5 apps has been been featured in a slideshow created by Monica Burns from Class Tech Tips and are particularly useful for classes where there is only one iPad or where students have to share the same iPad. I have also added more apps that I personally think are idea for collaborative team work. 10 Excellent iPad Applications for Teachers. With the iPad2 on the launching pad, it's a great time to share this list of useful iPad apps for teachers from guest writer Paula Dierkens.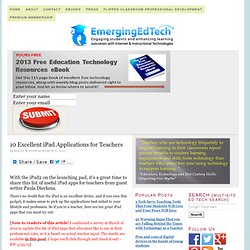 There's no doubt that the iPad is an excellent device, and if you own this gadget, it makes sense to pick up the applications best suited to your lifestyle and profession. So if you're a teacher, here are ten great iPad apps that you must try out: 50 really useful iPad 2 tips and tricks. An absolute gem of an article by John Brandon and Graham Barlow from MacLife on 30th March over at TechRadar.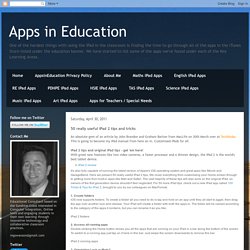 This is going to become my iPad manual from here on in. Customised iPads for all iPad 2 tips and original iPad tips - get 'em here! 50 Must-Have Educational Apps. It's time for holiday road trips and you know what that means: driving, flying, cranky kids, and… teaching opportunities!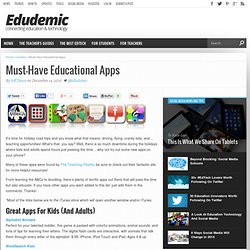 What's that, you say? Well, there is so much downtime during the holidays where kids and adults spend hours just passing the time… why not try out some new apps on your phone? Many of these apps were found by The Teaching Palette, be sure to check out their fantastic site for more helpful resources! From learning the ABCs to doodling, there's plenty of terrific apps out there that will pass the time but also educate.
If you have other apps you want added to this list, just add them in the comments. 50 Must-Have Educational Apps. Writing Apps for iPad | Best Useful iPad Apps for Writers. In this post we are going to deal with Best Writer iPad Apps.The iPad is perhaps the most useful companion to have with all the functions and facilities it offers.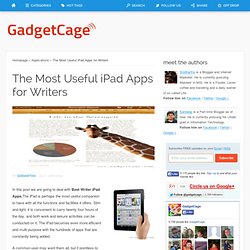 Slim and light, it is convenient to carry twenty four hours of the day, and both work and leisure activities can be conducted on it. The iPad becomes even more efficient and multi-purpose with the hundreds of apps that are constantly being added. A common user may want them all, but it pointless to have apps that are not useful or fall beyond the realm of a person's interests. Apps For Teachers: iPad/iPhone Apps AppList. More App Info description & screenshots Free TeacherPal by ITWorx Since taking attendance and keeping a gradebook is a regular task for all teachers, having a great solution on your iPhone or iPad is a must.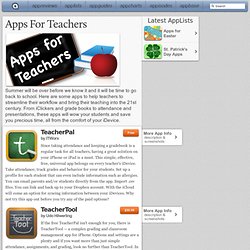 This simple, effective, free, universal app belongs on every teacher's iDevice. Take attendance; track grades and behavior for your students. Set up a profile for each student that can even include information such as allergies. You can email parents and/or students directly from the app.
---