Evaluation
Accès libre à l'ouvrage "La recherche en technologie éducative »
Quelle est la place de l'évaluation de l'information dans le pro­cessus et l'activité de veille ?
FADBEN
Hattie (with image, tweets) · loremipsem
La part d'évaluation formative dans toute évaluation continue
Posted May 19, 2011 at 09:05 am
Are You Designing Effective Questions for E-Learning?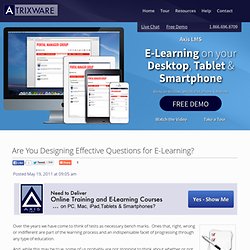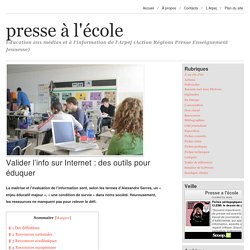 La maîtrise et l'évaluation de l'information sont, selon les termes d'Alexandre Serres, un « enjeu éducatif majeur », « une condition de survie » dans notre société.
Admee - Bienvenue sur le site de l'ADMEE-Europe
Publié par springclo le 30 juillet 2006
evaluation « Didactique des langues- Claude Springer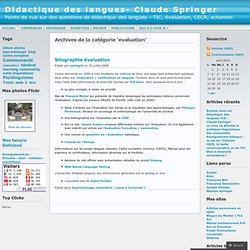 Evaluer par compétences
Quelques Textes concernant l'Evaluation a...d | e...k | l...q | r...z | Envoyer un texte
Evaluation in Distance Education and E-Learning: The Unfolding Model - Valerie Ruhe, Bruno D. Zumbo
grad-rediger-proposition-these.pdf (objeto application/pdf)
0811R.pdf (objeto application/pdf)
eva_europe_vol2_prefinal.pdf (objeto application/pdf)
Genuine Evaluation | Patricia J Rogers and E Jane Davidson blog about real, genuine, authentic, practical evaluation
Pour une approche pragmatique de l'évaluation formative
Evaluation formative sommative pronostique pédagogie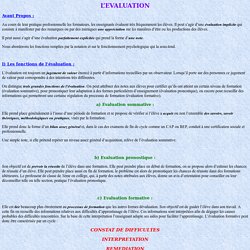 Avant Propos :
Back to Topic: Instructional Design
ID elearning formative evaluation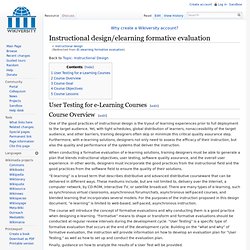 courshp20022003_session030514.pdf (objeto application/pdf)
Dr. V.K.Maheshwari , M.A(Socio, Phil) B.Se. M.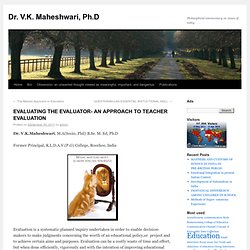 EVALUATING THE EVALUATOR- AN APPROACH TO TEACHER EVALUATION | Dr. V.K. Maheshwari, Ph.D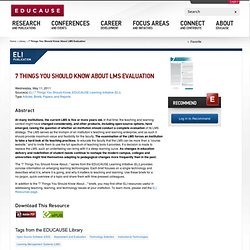 7 Things You Should Know About LMS Evaluation
At many institutions, the current LMS is five or more years old. In that time, the teaching and learning context might have changed considerably, and other products, including open-source options, have emerged, raising the question of whether an institution should conduct a complete evaluation of its LMS strategy.
La fièvre de l'évaluation
L'évaluation est devenue omniprésente, qu'il s'agisse de recherche ou de soins, d'individus ou de lois.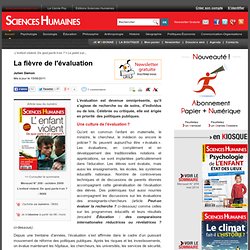 Practical Handbook for Ongoing Evaluation - Publications Centre - INTERACT Wiki
© Copyright Carter McNamara, MBA, PhD, Authenticity Consulting, LLC .
PROGRAM EVALUATION AND POLICY ANALYSIS "Take a step back, evaluate what's important, and enjoy life" (Teri Garr)
Program Evaluation and Policy Analysis
(98T08) EvaluTech
What is EvaluTech?
OERL: Teacher Education
Learning Materials