Pictures
Top 100 Sports Pictures of 2010 TotallyCoolPix. It was a big year in sports. in 2010 we had the usual suspects such as the tennis majors, the golf majors, baseball's World Series, football's Champions League, the Superbowl, all the famous horse races, an exciting Formula 1 season, the NBA play offs, the Tour de France and some great boxing.
And then we had some big, bigger and biggest sporting events. The biggest of them all being the Football World Cup in South Africa. Add to that the Winter Olympics and golf's Ryder Cup and 2010 was a vintage year of sports. These are 100 of the best pictures of that year in sports.
Places
Applications. 360. Photoshop. Funny. Animals. Cars. Mark Jenkins // Street Installations - StumbleUpon. BioMotionLab - StumbleUpon. Posted Dec 15, 2011 Share This Gallery inShare29 The best photos of 2011 from around the globe.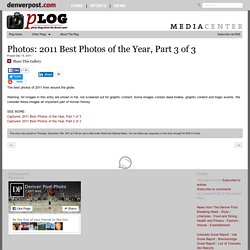 Warning: All images in this entry are shown in full, not screened out for graphic content. Some images contain dead bodies, graphic content and tragic events.
---