Listen
Die Antwoord Liewe Maatjies
Fleet Foxes
Tiesto - Elements of Life
Iggy Azalea - My World (OFFICIAL VIDEO)
Ghostfire par TIGER ARMY sur Myspace Music
For an up and coming rapper, getting a call from Top Dawg Entertainment is a dream come true. After all, the Compton-based label claims Kendrick Lamar, Schoolboy Q, Jay Rock and Ab-Soul, who are some of today's best, most respected lyricists. But TDE also trades locally—most of its artists are born and bred in Los Angeles. So when they announced that their latest signee, 21-year-old Isaiah Rashad, is from Chattanooga, Tenn., everybody took note. We took a trip down to Rashad's hometown to find out how a young MC from the Tennessee mountains caught the attention of the big dogs.
Straight To Hell (Album Version) par The Clash sur Myspace Music
Carousel (Album Version) par Blink 182 sur Myspace Music
Somebody That I Used To Know par gotye et Kimbra | Myspace Music
Yum Yum par THE SHAPE SHIFTERS sur Myspace Music
Thought I Was par Middle Class Rut sur Myspace Music
Last Caress [Explicit] par MISFITS sur Myspace Music
Warp to World 69 par Benefit sur Myspace Music
Deep End par Kozz and Will sur Myspace Music
southbay.mp3 par Special "C" sur Myspace Music
The Killing Moon par Echo & the Bunnymen et Echo & the Bunnymen | Myspace Music
VIVA LA REVOLUTION 25th Anniversary par THE ADICTS sur Myspace Music
The Devil Takes Care Of His Own par Band Of Skulls sur Myspace Music
Glass music-Dance of the sugar plum fairy-Tchaikovsky
Mystik Journeymen - Sammy's Song
Mystik Journeymen - Right Now feat. Grouch
Mystik Journeymen - Mercury Rising
Mp3Skip.com - Free MP3 Downloads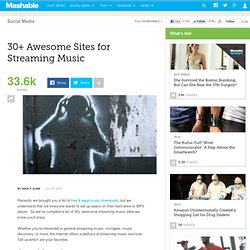 Recently we brought you a list of free & legal music downloads, but we understand that not everyone wants to eat up space on their hard drive or MP3 player.
Rolling In The Deep (Adele) - Linkin Park