C Language
The History of the C Language | CodingUnit Programming Tutorials. The C programming language was devised in the early 1970s by Dennis M.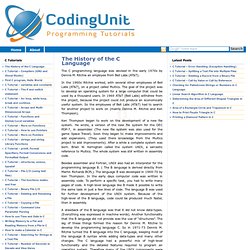 Ritchie an employee from Bell Labs (AT&T). In the 1960s Ritchie worked, with several other employees of Bell Labs (AT&T), on a project called Multics. The goal of the project was to develop an operating system for a large computer that could be used by a thousand users. In 1969 AT&T (Bell Labs) withdrew from the project, because the project could not produce an economically useful system. So the employees of Bell Labs (AT&T) had to search for another project to work on (mainly Dennis M. C Library. The C++ library includes the same definitions as the C language library organized in the same structure of header files, with the following differences:Each header file has the same name as the C language version but with a "c" prefix and no extension.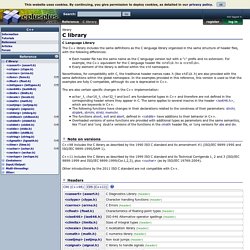 For example, the C++ equivalent for the C language header file <stdlib.h> is <cstdlib>.Every element of the library is defined within the std namespace. Nevertheless, for compatibility with C, the traditional header names name.h (like stdlib.h) are also provided with the same definitions within the global namespace. C programming.com - Learn C and C++ Programming.
---