Strategy
Web 2.0: Buzz-Monitoring and Tracking | Developer's Toolbox. Advertisement You'd like to improve the link popularity of your site.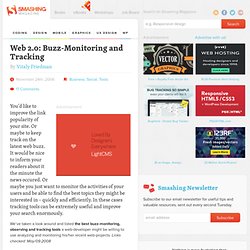 Or maybe to keep track on the latest web buzz. It would be nice to inform your readers about it the minute the news occured. Why You Need a Social Media Champion from Search Marketing Gurus. By Li Evans Lets face it, Social Media can be pretty tough sell to the senior management or to clients who have just gotten their arms around the whole "SEO and PPC thing".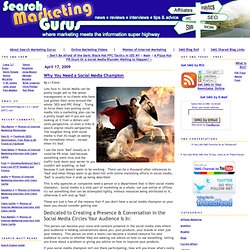 Trying to force them into putting social media into a marketing plan can be a pretty tough sell if you are just looking at it from a dollars and cents perspective, or even a links & search engine results perspective. The toughest thing with social media is that its rough on seeing the immediate return - except when it's 'bad'. I use the term "bad" loosely as it could be PR-wise, bad because something went viral and the traffic took down your server to you couldn't sell anything, or bad because it just doesn't seem to be working. There can be a thousand other references to "bad" and when things seem to go down hill with online marketing efforts in social media, "bad" is usually how it ends up being described.
Retour sur la conférence Marketing 2.0 /// Agence Marketing vira. What Social Media for my event? March 3, 2009 | AUTHOR: Julius Solaris | POSTED IN: event planning 2.0 It's the buzzword of the day, Social Media.
Does it make sense to use it for your event? Surveys Results on Behaviors, Intentions, Motivations and Barrie. IBM Innovation | Global Innovation Outlook.
---