Manualidades
How To Make A Stylish Photo Frame For Several Photos. Here is a simple yet stylish photo frame that can accomodate quite many photos at once.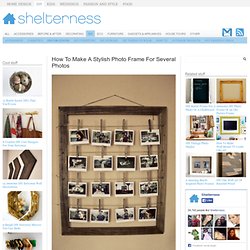 The idea is very simple. Fasten twines on the empty frame and hang photos using clothes pins on them. You can use a frame you bought or a frame you made by yourself. To make it you just need to find some wood strips, sand them, paint or stain them and fasten together with the staples and nails. Yes, everything is as simple as it sounds. How to Make Leaf Skeletons. I wanted to share with you a project from one of my readers who shares with us how to make leaf skeletons.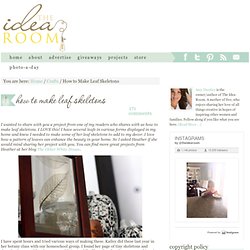 I LOVE this! I have several leafs in various forms displayed in my home and knew I needed to make some of her leaf skeletons to add to my decor. I love how a pattern of leaves can enhance the beauty in your home. Miscellaneous. I feel melty. | Light&Spoon.
EDIT 11/5/2012: We are no longer selling custom crayon pieces in our Etsy shop.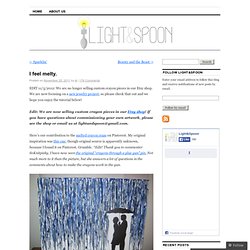 We are now focusing on a new jewelry project, so please check that out and we hope you enjoy the tutorial below! Edit: We are now selling custom crayon pieces in our Etsy shop! If you have questions about commissioning your own artwork, please see the shop or email us at lightandspoon@gmail.com. Here's our contribution to the melted crayon craze on Pinterest. My original inspiration was this one, though original source is apparently unknown, because I found it on Pinterest. The Technique Zone.
You will need some beeswax and a means of heating it - if you don't have a melt pot an oil burner with a nightlight will work perfectly ok.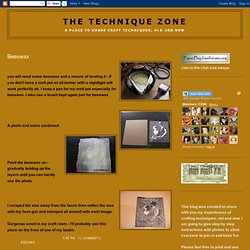 I keep a pan for my melt pot especially for beeswax. I also use a brush kept again just for beeswax A photo and some cardstock Paint the beeswax on - gradually bulding up the layers until you can hardly see the photo I scraped the wax away from the faces then soften the wax with my heat gun and stamped all around with swirl image. Tutorials. I've recently discovered how amazing quinoa is.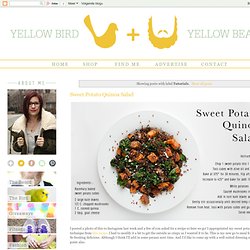 Do you guys eat quinoa? You can prepare it so many ways it could go with practically any meal. Plus its a great healthy substitute for white rice - hooray! Trader Joe's Organic Gluten Free TriColor Quinoa is the brand I prefer. Honestly WTF. Decorative Pillow Pattern DANIELLA DAHLIA Felt par SewYouCanToo. The one and only, ORIGINAL two-toned Daniella Dahlia Felt Flower Pillow tutorial is now available for you to create your very own.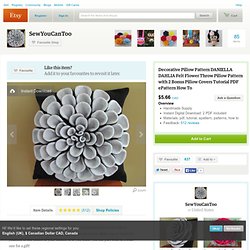 Make one or more for yourself in the colors of your choice, or if you think you can part with it, create one for a gift! The flower itself measures approximately 12" in diameter and is shown on a 14" pillow. Here is what buyers are saying: "Absolutely stunning ! Great pattern, very well written, can't wait to make it. The Anthro bookcase | whollykao.
Have you ever seen something in a catalog, gawked at the price tag, and thought 'I could totally make that?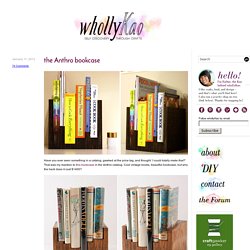 ' That was my reaction to this bookcase in the Anthro catalog. Cool vintage books, beautiful bookcase, but why the heck does it cost $1400? So I set off to make my own. The case is custom made to fit certain books. I wanted to make one for our cookbooks, so that's what I based my measurements around. Ucreate.
---