Redes Sociales
BLAVING
STAY CONNECTED Connect to Twitter, Facebook, Youtube, Foursquare and more... in one place STATUS SYNC Update your status across all your services at once EASY SHARING Share links, images & videos across all your networks YOONO EVERYWHERE Available for Windows, Mac and Linux. Supported Services Facebook MySpace YouTube Twitter Flickr FriendFeed LinkedIn MSN AIM GTalk Yahoo Chat Foursquare Click Allow Button Above from Firefox Click Install Now After downloading, Restart Firefox Sorry, Yoono currently only supports Firefox 2 and later and Internet Explorer 7 and later though we plan on supporting more browsers in the future! We're very close to launching Yoono 6.0 beta for IE!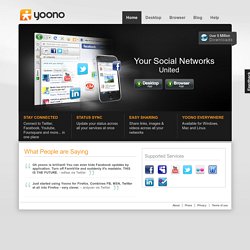 La comunidad de Innovadores de América Latina - Piola
50 aplicaciones para obtener datos de Twitter
En honeytechblog.com han publicado una enorme lista de aplicaciones, muchas de las cuales ya habían aparecido por la categoría de Twitter, que nos permiten obtener datos estadísticos sobre cualquier cuenta de twitter: frecuencia de actualización, palabras más comunes, seguidores, seguidos, etc. así como mostrar informaciones específicas sobre palabras clave. 1. Twittercounter Para ver el crecimiento de número de seguidores de una o varias cuentas. 2.Twitteranalyzer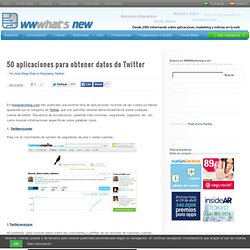 The Archivist - Save and Export Twitter Searches Before They Go
Hace unos días hablamos de los usos que se le pueden dar a las li stas de twitter y ahora les traemos una selección de herramientas para que puedan gestionarlas de manera m? fácil y eficiente: Es una aplicación web que te facilitará mucho el trabajo a la hora de crear y administrar tus listas . Una vez ingreses mediante Twitter Oauth podrás ?
10 herramientas que te ayudarán con las listas de Twitter « moviles.com3.es
Foursquare I'm looking for... What's happening in Montreal? Let's explore nearby: "Sweet place !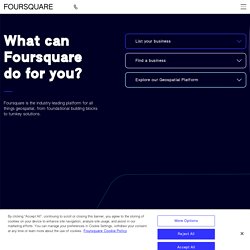 Daily on Twitter as shared by Cesar Camino
Beta-6 is Out! | ÜberTwitter Ad.ly Analytics - Understand Your Followers
Advisors John Durham, CEO/Managing Partner, Catalyst S+F--a strategy firm for digital start-ups and early funding companies. A true industry veteran, most recently Durham served as the executive vice president, business strategy at Carat Fusion, for Carat's offices across the country including New York, Boston, San Francisco, Chicago and Los Angeles. Ryan Schinman, Founder of Platinum Rye Entertainment, now "the world's largest broker of celebrity talent, models, recording artists, sports figures and other celebrities for ad campaigns and P.R. events," according to Forbes Magazine.
La mayoría de las personas se encuentran desorientadas cuando se enfrentan a una búsqueda de empleo. Es importante que no descartes ninguna de las posibilidades de búsqueda de empleo a las que puedes acceder ya que por remotas que parezcan, pueden resultar efectivas. Puedes comenzar por la redacción del currículum: debes diseñar un currículum claro que aporte la información necesaria para su valoración en la primera fase del proceso de selección; no olvides fechas, empresas, puestos ocupados, funciones desempeñadas, idiomas, y sobre todo aquellos aspectos que pueden aportar un valor añadido a tu candidatura frente a otros candidatos. A pesar de tener un modelo de currículum es importante que lo adaptes a cada oferta de empleo, potenciando y resaltando aquello que posees y mejor se ajuste al puesto. La carta de presentación también es relevante.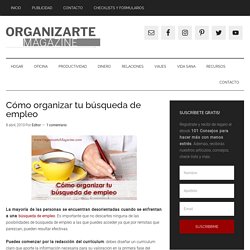 http://www.organizartemagazine.com/2010/04/08/como-organizar-tu-
Redes Evaluacion de Articulos
PAGINA FACEBOOK INCREIBLE!