Redes Sociales
BLAVING
La comunidad de Innovadores de América Latina - Piola
50 aplicaciones para obtener datos de Twitter
En honeytechblog.com han publicado una enorme lista de aplicaciones, muchas de las cuales ya habían aparecido por la categoría de Twitter, que nos permiten obtener datos estadísticos sobre cualquier cuenta de twitter: frecuencia de actualización, palabras más comunes, seguidores, seguidos, etc. así como mostrar informaciones específicas sobre palabras clave.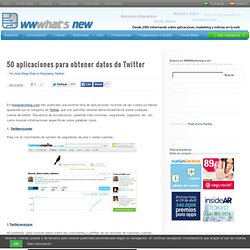 The Archivist - Save and Export Twitter Searches Before They Go
Hace unos días hablamos de los usos que se le pueden dar a las li stas de twitter y ahora les traemos una selección de herramientas para que puedan gestionarlas de manera m?
10 herramientas que te ayudarán con las listas de Twitter « moviles.com3.es
Daily on Twitter as shared by Cesar Camino
Beta-6 is Out! | ÜberTwitter
Ad.ly Analytics - Understand Your Followers
La mayoría de las personas se encuentran desorientadas cuando se enfrentan a una búsqueda de empleo. Es importante que no descartes ninguna de las posibilidades de búsqueda de empleo a las que puedes acceder ya que por remotas que parezcan, pueden resultar efectivas.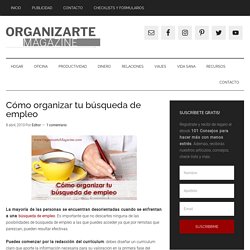 http://www.organizartemagazine.com/2010/04/08/como-organizar-tu-
Redes Evaluacion de Articulos
PAGINA FACEBOOK INCREIBLE!