Redes Sociales
BLAVING
La comunidad de Innovadores de América Latina - Piola
50 aplicaciones para obtener datos de Twitter
En honeytechblog.com han publicado una enorme lista de aplicaciones, muchas de las cuales ya habían aparecido por la categoría de Twitter , que nos permiten obtener datos estadísticos sobre cualquier cuenta de twitter: frecuencia de actualización, palabras más comunes, seguidores, seguidos, etc. así como mostrar informaciones específicas sobre palabras clave.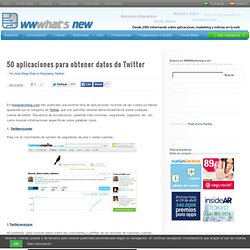 The Archivist - Save and Export Twitter Searches Before They Go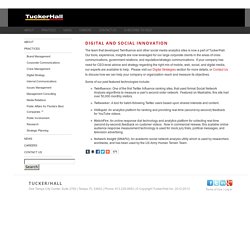 The team that developed Twinfluence and other social media analytics sites is now a part of Tucker/Hall. Our tools, experience, insights are now leveraged for our large corporate clients in the areas of crisis communications, government relations, and reputation/strategic communications. If your company has need for CEO-level advice and strategy regarding the right mix of mobile, web, social, and digital media, our experts are available to help. Please visit our Digital Strategies section for more details, or Contact Us to discuss how we can help your company or organization reach and measure its objectives.
Hace unos días hablamos de los usos que se le pueden dar a las li stas de twitter y ahora les traemos una selección de herramientas para que puedan gestionarlas de manera m?
10 herramientas que te ayudarán con las listas de Twitter « moviles.com3.es
Daily on Twitter as shared by Cesar Camino
Beta-6 is Out! | ÜberTwitter
Ad.ly Analytics - Understand Your Followers
Autor: Elena García Fuente: Monster La mayoría de las personas se encuentran desorientadas cuando se enfrentan a una búsqueda de empleo .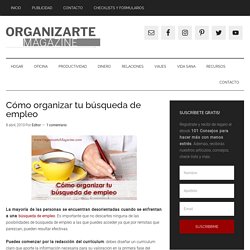 http://www.organizartemagazine.com/2010/04/08/como-organizar-tu-
Redes Evaluacion de Articulos
PAGINA FACEBOOK INCREIBLE!