Redes Sociales
BLAVING. Yoono.
Plaxo. La comunidad de Innovadores de América Latina - Piola. Twitter. Twit Cleaner - Clean your Tweetstream! Analizador de Cuentas. 50 aplicaciones para obtener datos de Twitter. En honeytechblog.com han publicado una enorme lista de aplicaciones, muchas de las cuales ya habían aparecido por la categoría de Twitter, que nos permiten obtener datos estadísticos sobre cualquier cuenta de twitter: frecuencia de actualización, palabras más comunes, seguidores, seguidos, etc. así como mostrar informaciones específicas sobre palabras clave. 1.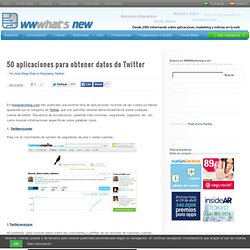 Twittercounter Para ver el crecimiento de número de seguidores de una o varias cuentas. 2.Twitteranalyzer. The Archivist - Save and Export Twitter Searches Before They Go. Twitter Influence Analyzer. 10 herramientas que te ayudarán con las listas de Twitter « moviles.com3.es. Hace unos días hablamos de los usos que se le pueden dar a las li stas de twitter y ahora les traemos una selección de herramientas para que puedan gestionarlas de manera m?
Fácil y eficiente: Es una aplicación web que te facilitará mucho el trabajo a la hora de crear y administrar tus listas . Una vez ingreses mediante Twitter Oauth podrás ? Foursquare. Daily on Twitter as shared by Cesar Camino. Beta-6 is Out! | ÜberTwitter. TweetDeck.
Twitnest 0.1 (by @nattster) Ad.ly Analytics - Understand Your Followers.
Ning | Crea y descubre redes sociales de Ning para tus intereses. Welcome to Facebook. PAGINA FACEBOOK INCREIBLE!
---