Inspiration
Kinetic sculpture at the BMW Museum (audio swap) Santambrogiomilano. Glass Furniture by Santambrogio Milano : Could this be a new trend ? Designed by Italian manufacturer Santambrogio Milano these pieces of furniture made from glass are something quite interesting, that you don't see everyday.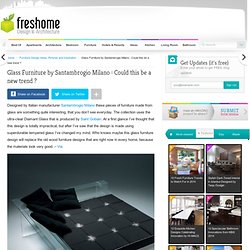 The collection uses the ultra-clear Diamant Glass that is produced by Saint Gobain. At a first glance I've thought that this design is totally impractical, but after I've saw that the design is made using superdurable tempered glass I've changed my mind. Who knows maybe this glass furniture design will replace the old wood furniture designs that are right now in every home, because the materials look very good. – Via. Irina Vinnik Portfolio. Natural Pools or Swimming Ponds. Natural Pools or Natural Swimming Ponds (NSPs) Let nature clean the water...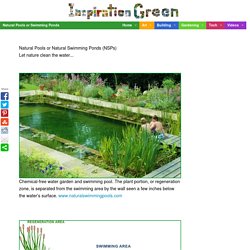 Chemical-free water garden and swimming pool. The plant portion, or regeneration zone, is separated from the swimming area by the wall seen a few inches below the water's surface. www.naturalswimmingpools.com. 25 Wrist Tattoos | Penny's Daybook | www.PennysDaybook.com. There's always this one question that crosses everyone's mind at least once in their lives: Tattoos – Should I get one?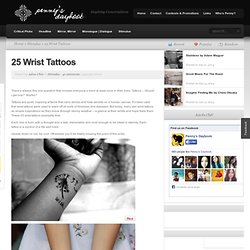 Yes/No? Tattoos are quiet, inspiring artwork that carry stories and hide secrets on a human canvas. It's been said that wrist tattoos were used to ward off all sorts of illnesses and diseases. But today, many see wrist tattoos as simple inspirations as they brave through stormy weather – a glance at their wrists and hope fuels them. These 25 wrist tattoos exemplify that. Artwork : Leslie Ann O'Dell. Fearon Hay Architects. 25hrs with...Matty D'Arienzo. Small Japanese Homes. Create Beautiful Effects with The Bokeh Kit. Cordito Keep all of your cords and phone accessories in one fancy, rolled up package.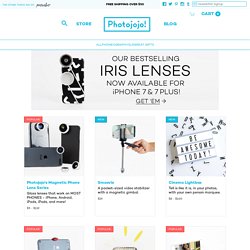 More → Focus Shifter A handle for smooth shifts in focus and a marker board for planning your route More → The Poppy. Kevin Pollard » Blog Archive » Zumthor's Serpentine Pavilion. I've just been to see Peter Zumthor's Serpentine Pavilion in Hyde Park, London, and a number of things stood out. - Acoustically, sounds are muted as the hession that makes up the only material save for the benches absorbs sound, meaning you are more atuned to the sounds inside the pavilion than the dozens of footsteps that would be easily distracting. - The overhanging eaves protect from the weather while allowing you to be outside.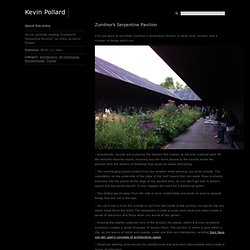 The indentation on the underside of the edge of the roof means that rain water flows in sheets precisely into the gravel at the edge of the planted area, so you don't get wet, it doesn't splash and the plants benefit. It also negates the need for a traditional gutter. - The shifted bench away from the wall is more comfortable and lends an area to deposit things that are not in the way. Crater Lake - Wood Installation by 24° Studio. Inspiring Installation A winner at the 2011 Shitsurai Art International Competition, Crater Lake is an environmental installation that serves as a meeting place to visit with friends, contemplate the surroundings, or simply sit for a moment.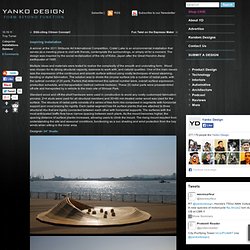 The design was inspired by the social revitalization of the city of Kobe, Japan after the Great Hanshin-Awaji earthquake of 1995. Multiple ideas and materials were tested to realize the complexity of the smooth and undulating form. Wood was chosen for its strong structural capacity, easiness to work with, and natural qualities. Your Rainbow Panorama.
"Your rainbow panorama" is a great permanent work of art by Olafur Eliasson made for the rooftop of ARoS Aarhus Kunstmuseum (Denmark), and provides the visitors a unique panoramic visual experience.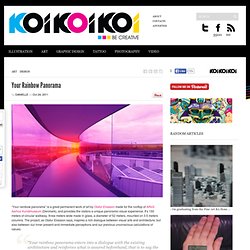 It's 150 meters of circular walkway, three meters wide made in glass, a diameter of 52 meters, mounted on 3.5 meters columns. The project, as Olafur Eliasson says, inspires a rich dialogue between visual arts and architecture, but also between our inner present-and-immediate perceptions and our previous unconscious calculations of values. Brilliant Stairs photos. Imaginative Package Designs - Design. Imaginative Package Designs Packaging is a very important marketing strategy to glamorize a product in order to attract the consumer's attention.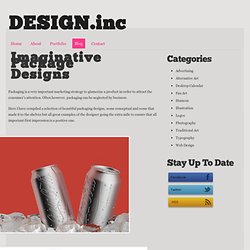 Often however, packaging can be neglected by business. Here I have compiled a selection of beautiful packaging designs, some conceptual and some that made it to the shelves but all great examples of the designer going the extra mile to ensure that all important first impression is a positive one. Exhibition: Noé Duchaufour-Lawrance at Galerie BSL. Suggested Reading The Story of Eames Furniture Brimming with images and insightful text, this unique book is the benchmark reference on what is arguably the most influential and important furniture brand of our time.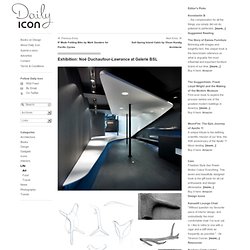 [more...] Buy it here: Amazon The Guggenheim: Frank Lloyd Wright and the Making of the Modern Museum First-ever book to explore the process behind one of the greatest modern buildings in America. ArchDaily | Broadcasting Architecture Worldwide. Architecture | Home. - STREET ART UTOPIA. More info.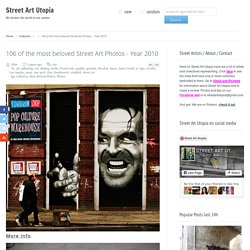 More info. More Banksy on streetartutopia.com. More info. More 3D on streetartutopia.com. More of this on streetartutopia.com. FRONT - The funniest, sexiest magazine on Earth. Bartlett School of Architecture, Year 1, Brook Lin - Drawing film, UCL. Category: floating stairs. 2007-10-19-Wrong2.jpg (JPEG Image, 720 × 275 pixels)
---