Exemples étrangers d'Open Data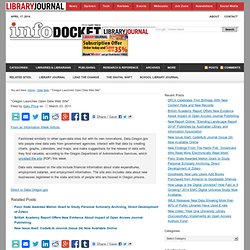 April 17, 2014 LJ INFOdocket Information Industry News and Resources from Gary Price You are here: Home / Data Sets / "Oregon Launches Open Data Web Site"
"Oregon Launches Open Data Web Site" « INFOdocket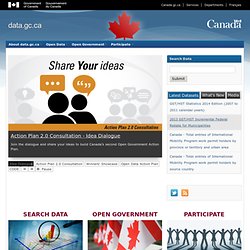 The Open Data Pilot is part of the Government of Canada's commitment to open government, which is being pursued along three streams: open data, open information and open dialogue, and aims to drive innovation and economic opportunities for all Canadians. The Open Data Pilot seeks to improve the ability of the public to find, download and use Government of Canada data. You are invited to search the catalogue, download datasets and explore the possibilities of Open Data. Search General Datasets [Total Datasets : 5379] Search Geospatial Datasets [Total Datasets : 260296]
OpenGovData.ru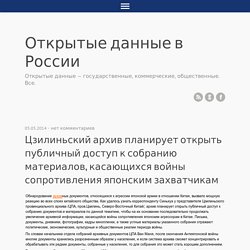 Джефф Джарвис, 31 декабря, 2013 Этот пост я написал для Гардиан, в защиту той позиции, что основная проблема АНБ связана не с приватностью, а с превышением правительством своих полномочий, а также с его уклонением от общественного контроля. Я поддерживаю мнение судьи Ричарда Леона, что массовый сбор правительством метаданных достиг "почти Оруэлловских масштабов" и не согласен с решением судьи Уильяма Поли III, что сбор АНБ таких данных и эффективен, и совершенно легален. Но меня беспокоит, что судьи — как и многие комментаторы, и даже сам Эдвард Сноуден — рассматривают эту проблему в неверной плоскости. Я вижу определенную опасность в обсуждении деятельности АНБ как проблемы приватности.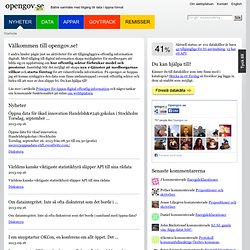 Välkommen till opengov.se! - opengov.se
I andra länder pågår just nu aktiviteter för att tillgängliggöra offentlig information digitalt. Med tillgång till digital information skapa möjligheter för medborgare att bilda sig en uppfattning om hur offentlig sektor förbrukar medel och presterar. Samtidigt blir det möjligt att skapa nya e-tjänster på medborgarnas villkor och starta företag för att vidareförädla information. På opengov.se hoppas jag att kunna synliggöra den data som finns undanstoppad i svensk offentlig sektor och bidra till att mer av den släpps fri.
Open Knowledge Foundation Blog » Blog Archive » Open Government Data in Slovakia
The following guest post is by Zuzana Wienk, from the Slovakian watchdog the Fair Play Alliance. She is also a member of the Open Knowledge Foundation's Working Group on Open Government Data When we started to build a data catalogue of all possible flows of public finances to the private sphere in 2003, we had no idea it would be a perfect fit with the open data movement's efforts. As former journalists, we simply saw the great advantage of having all kinds of public data (freely accessible thanks to the freedom of information act) brought together in a searchable database format. After years of FOIA requests and litigation, Fair-Play Alliance now offers the most comprehensive catalogue in Slovakia.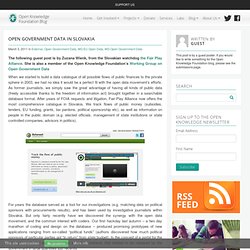 mashupaustralia.org
Des informations de "background" sur Crown Copyright switches to Creative Commons. Plus d'information sur OPSI's Perspectives blog. Source : http://egovau.blogspot.com/2010/04/uk-government-switching-crown-copyright.html Voir aussi l'article d'Emmanuel Barthe
Le gouvernement britannique s''oriente vers d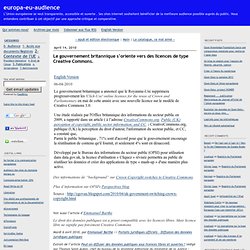 Accessibility Links [Skip to content] Masthead Kāwanatanga o AotearoaNew Zealand Government New Zealand Government data and data request search Navigation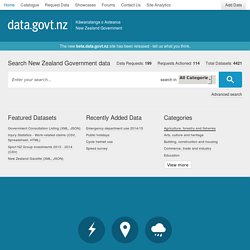 New Dutch government portal uses CC0 public domain waiver as def