Copyfraud
Copyfraud. Copyfraud is a form of copyright misuse.
The term was coined by Jason Mazzone, a Professor of Law at Brooklyn Law School, to describe situations where individuals and institutions illegally claim copyright ownership of content in the public domain and other forms of overreaching by publishers and others who claim rights that the law does not give them; these actions carry little or no oversight by authorities or legal consequences. Mazzone pointed out ways in which copyright overreaching interferes with the public's legitimate use and reproduction of works, discourages innovation and free speech, and creates costs.[1]:1028.
Copyfraud. Un article de Wikipédia, l'encyclopédie libre.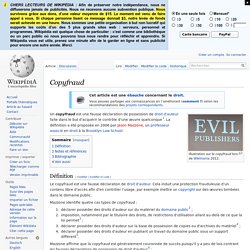 Illustration sur le copyfraud lors de Wikimania 2012. Un copyfraud est une fausse déclaration de possession de droit d'auteur faite dans le but d'acquérir le contrôle d'une œuvre quelconque[1]. La définition a été proposée en 2006 par Jason Mazzone, un professeur associé en droit à la Brooklyn Law School. Définition[modifier | modifier le code] Le copyfraud est une fausse déclaration de droit d'auteur. Copyfraud: Poisoning the public domain. High performance access to file storage Special report The public domain is the greatest resource in human history: eventually all knowledge will become part of it.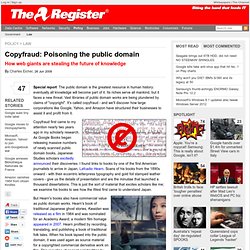 Its riches serve all mankind, but it faces a new threat. Vast libraries of public domain works are being plundered by claims of "copyright". It's called copyfraud - and we'll discover how large corporations like Google, Yahoo, and Amazon have structured their businesses to assist it and profit from it. Copyfraud. Réclamer des droits d'auteurs (ou plus largement de propriété intellectuelle) sur des ouvrages qui sont dans le domaine public, est-ce bien légal ?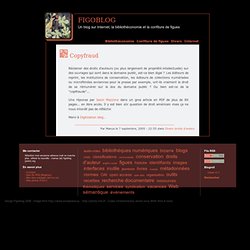 Les éditeurs de reprint, les institutions de conservation, les éditeurs de collections numérisées ou microfilmées anciennes pour la presse par exemple, ont-ils vraiment le droit de se rémunérer sur le dos du domaine public ? Ou bien est-ce de la "copifraude"... Copyfraud by Jason Mazzone. Copyfraud is everywhere.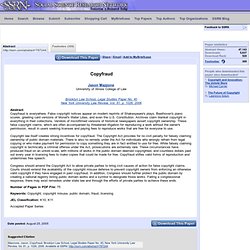 False copyright notices appear on modern reprints of Shakespeare's plays, Beethoven's piano scores, greeting card versions of Monet's Water Lilies, and even the U.S. Constitution. Archives claim blanket copyright in everything in their collections. Création d'un copyright spécial pour le Pape, Sociét&eacu. Pope passes special Vatican copyright giving him exclusive right. The Pope has created a special (and weirdly incoherent) copyright in his name, image and symbols.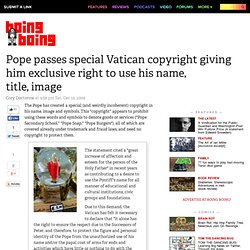 This "copyright" appears to prohibit using these words and symbols to denote goods or services ("Pope Secondary School," "Pope Soap," "Pope Burgers"), all of which are covered already under trademark and fraud laws, and need no copyright to protect them. The statement cited a "great increase of affection and esteem for the person of the Holy Father" in recent years as contributing to a desire to use the Pontiff's name for all manner of educational and cultural institutions, civic groups and foundations.
Due to this demand, the Vatican has felt it necessary to declare that "it alone has the right to ensure the respect due to the Successors of Peter, and therefore, to protect the figure and personal identity of the Pope from the unauthorized use of his name and/or the papal coat of arms for ends and activities which have little or nothing to do with the Catholic Church... " Copyright Cops Go After Town For Creating Little Mermaid Statue. Dan sends in yet another story about copyright gone wrong.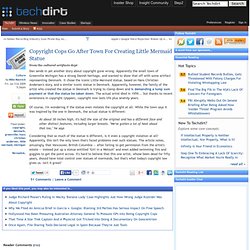 Apparently the small town of Greenville Michigan has a strong Danish heritage, and wanted to show that off with some artifact representing Denmark. It chose the iconic Little Mermaid statue, based on Hans Christian Andersen's story, and a similar iconic statue in Denmark. Wikipedia A Thief? Wikipedia, the Free Encyclopedia, is without a doubt accepted as one of the most amazing sources of information on the internet.
This is where people turn to for any information they need. The English language version was brought out in 2001 and has experienced great popularity since then. But over the years, Wikipedia has had its share of controversies. There have been academics who deemed suspect some entries, as it is an encyclopedia that can be edited by anyone. More attacks on institutional copyfraud. 1.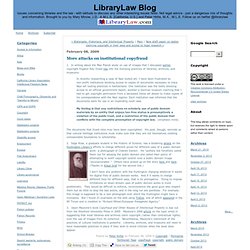 In writing about the Max Planck study on use of images that I discussed earlier, copyright litigator Ray Dowd rips into the licensing practices of libraries, archives, and museums: In recently researching a case of Nazi looted art, I have been frustrated by non-profit institutions blocking access to copies of documents necessary to trace Nazi-art looting practices in Switzerland. One institution was the Getty blocking access to an official government report, another a German museum claiming that I had to get copyright permission from a deceased Swiss art dealer to make copies of his correspondence with the Nazi regime.
---