Copyfraud
Copyfraud is a form of copyright misuse. The term was coined by Jason Mazzone, a Professor of Law at Brooklyn Law School, to describe situations where individuals and institutions illegally claim copyright ownership of content in the public domain and other forms of overreaching by publishers and others who claim rights that the law does not give them; these actions carry little or no oversight by authorities or legal consequences. Mazzone pointed out ways in which copyright overreaching interferes with the public's legitimate use and reproduction of works, discourages innovation and free speech, and creates costs.[1]:1028
Copyfraud
Copyfraud
Un article de Wikipédia, l'encyclopédie libre. Illustration sur le copyfraud lors de Wikimania 2012.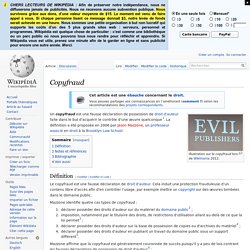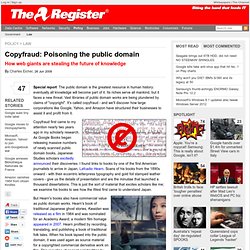 A guide to transactional email
Copyfraud: Poisoning the public domain
Réclamer des droits d'auteurs (ou plus largement de propriété intellectuelle) sur des ouvrages qui sont dans le domaine public, est-ce bien légal ? Les éditeurs de reprint, les institutions de conservation, les éditeurs de collections numérisées ou microfilmées anciennes pour la presse par exemple, ont-ils vraiment le droit de se rémunérer sur le dos du domaine public ? Ou bien est-ce de la "copifraude"...
Copyfraud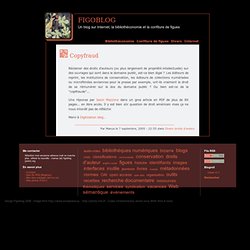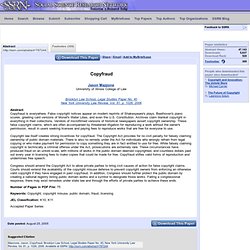 University of Illinois College of Law
Copyfraud by Jason Mazzone
Création d'un copyright spécial pour le Pape, Sociét&eacu
The Pope has created a special (and weirdly incoherent) copyright in his name, image and symbols.
Pope passes special Vatican copyright giving him exclusive right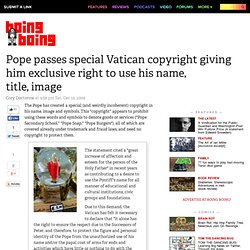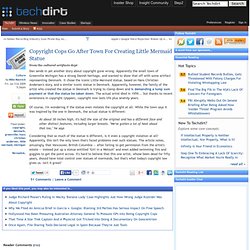 Copyright Cops Go After Town For Creating Little Mermaid Statue
Dan sends in yet another story about copyright gone wrong. Apparently the small town of Greenville Michigan has a strong Danish heritage, and wanted to show that off with some artifact representing Denmark. It chose the iconic Little Mermaid statue, based on Hans Christian Andersen's story, and a similar iconic statue in Denmark.
Wikipedia A Thief?
Wikipedia, the Free Encyclopedia, is without a doubt accepted as one of the most amazing sources of information on the internet.
More attacks on institutional copyfraud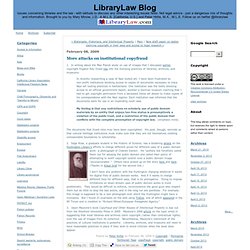 1.