Church
Johnny Felker. Ferrell Jenkins. Ferrell Jenkins has been conducting tours to the Bible Lands since 1967.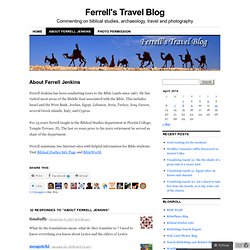 He has visited most areas of the Middle East associated with the Bible. This includes Israel and the West Bank, Jordan, Egypt, Lebanon, Syria, Turkey, Iraq, Greece, several Greek islands, Italy, and Cyprus. Biblical Studies. BibleWorld. Ferrell's Travel Blog. Auburn church of Christ. BibleGateway.com. West Fayetteville Church of Christ.
South Bumby Church of Christ. Lesson Podcast. Special Studies.
---