Academic People
Anthony Stafford Beer. Stafford Beer (25 September 1926 – 23 August 2002) was a British theorist, consultant and professor at the Manchester Business School.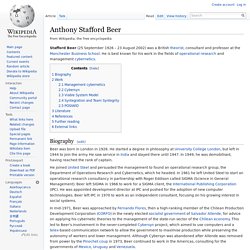 He is best known for his work in the fields of operational research and management cybernetics. Biography[edit] Beer was born in London in 1926. He started a degree in philosophy at University College London, but left in 1944 to join the army. Desiderius Erasmus. Desiderius Erasmus Roterodamus (27 October[1] 1466 – 12 July 1536), known as Erasmus of Rotterdam, or simply Erasmus, was a Dutch Renaissance humanist, Catholic priest, social critic, teacher, and theologian.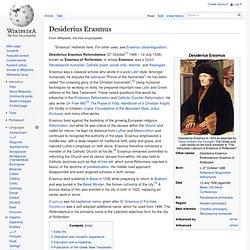 Erasmus was a classical scholar who wrote in a pure Latin style. Amongst humanists, he enjoyed the sobriquet "Prince of the Humanists"; he has been called "the crowning glory of the Christian humanists".[2] Using humanist techniques for working on texts, he prepared important new Latin and Greek editions of the New Testament. These raised questions that would be influential in the Protestant Reformation and Catholic Counter-Reformation. Giordano Bruno. Giordano Bruno (Latin: Iordanus Brunus Nolanus; Italian: [dʒorˈdano ˈbruno]; 1548 – February 17, 1600), born Filippo Bruno, was an Italian Dominican friar, philosopher, mathematician, poet, and astrologer.[3] He is celebrated for his cosmological theories, which went even further than the then-novel Copernican model: while supporting heliocentrism, Bruno also correctly proposed that the Sun was just another star moving in space, and claimed as well that the universe contained an infinite number of inhabited worlds, identified as planets orbiting other stars.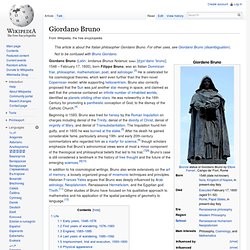 He was noteworthy in the 16th Century for promoting a pantheistic conception of God, to the dismay of the Catholic Church.[4] In addition to his cosmological writings, Bruno also wrote extensively on the art of memory, a loosely organized group of mnemonic techniques and principles.
People who were studied
Amartya Sen. Amartya Kumar Sen (born 3 November 1933), is an Indian economist and a Nobel laureate.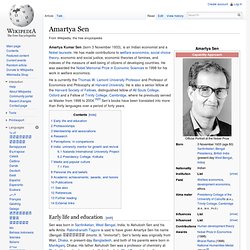 He has made contributions to welfare economics, social choice theory, economic and social justice, economic theories of famines, and indexes of the measure of well-being of citizens of developing countries. He was awarded the Nobel Memorial Prize in Economic Sciences in 1998 for his work in welfare economics. He is currently the Thomas W. Lamont University Professor and Professor of Economics and Philosophy at Harvard University. He is also a senior fellow at the Harvard Society of Fellows, distinguished fellow of All Souls College, Oxford and a Fellow of Trinity College, Cambridge, where he previously served as Master from 1998 to 2004.[4][5] Sen's books have been translated into more than thirty languages over a period of forty years.
---