Books ?
Whichbook | A new way of choosing what to read next. 4 Sites with LOTS Of Completely Free Ebooks That Don't Suck. If you're a fervent reader and nerd like I am, you've probably encountered quite a lot of writing online.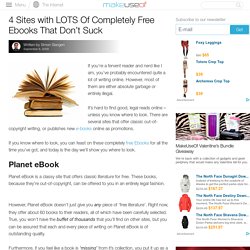 However, most of them are either absolute garbage or entirely illegal. It's hard to find good, legal reads online – unless you know where to look. There are several sites that offer classic out-of-copyright writing, or publishes new e-books online as promotions. If you know where to look, you can feast on these completely free Ebooks for all the time you've got, and today is the day we'll show you where to look. Planet eBook. Free online speed reading software | Spreeder.com.
Spreeder is a free service provided by 7-Speed-ReadingTM.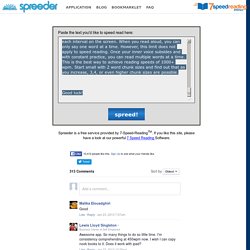 If you like this site, please have a look at our powerful 7 Speed Reading Software. Spreeder.com is a free online speed reading software designed to improve your reading speed and comprehension. Spreeding 1 word @ 300 wpm Paste the text you'd like to speed read here: Free Books - 50 Places to Find Free Books Online. Mar 18, 2011 Free books can be found everywhere--if you know where to look.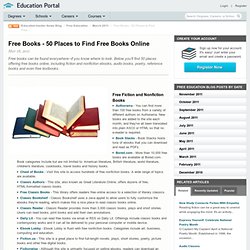 Below you'll find 50 places offering free books online, including fiction and nonfiction ebooks, audio books, poetry, reference books and even free textbooks. Free Fiction and Nonfiction Books Authorama - You can find more than 100 free books from a variety of different authors on Authorama.
---