Religion
CatholicHerald.co.uk | Author Archives. Luciano Ayan. Mirror of Justice - Flock. April 11, 2014 Law Professors' Feb.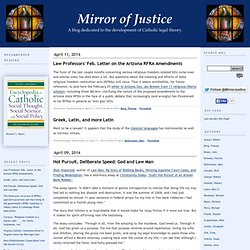 Letter on the Arizona RFRA Amendments The furor of the last couple months concerning various religious-freedom-related bills (wise ones and unwise ones) has died down a bit. Flock. Creative Minority Report - Flock. Flock. GetReligion » "The press . . . just doesn't get religion." — Wil. New Oxford Review - Flock. Vox Nova - Flock. Editor's Briefing - Flock. Le Blog du Curé - Flock. Thomas More - Flock.
Le Salon Beige - blog quotidien d'actualité par des laïcs cathol.
---