Religion
CatholicHerald.co.uk | Author Archives
Luciano Ayan
April 11, 2014 Law Professors' Feb. Letter on the Arizona RFRA Amendments The furor of the last couple months concerning various religious-freedom-related bills (wise ones and unwise ones) has died down a bit.
Mirror of Justice - Flock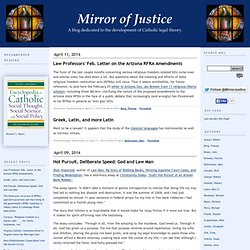 Flock
*subhead*Real war on women is in the womb.*subhead* Everyone knows that sex-selection is rampant in the places like China and India where ultrasound and legalized abortion mean that roughly 160 million women are "missing." What many people do not know, or refuse to acknowledge, is that the practice of aborting girls just because they are girls is growing in the West as well.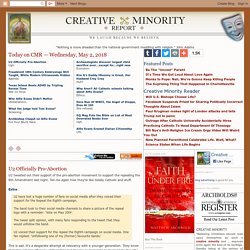 Creative Minority Report - Flock
Flock
GetReligion » "The press . . . just doesn't get religion." — Wil
New Oxford Review - Flock
A oft used joke is to respond to a question whose answer is obviously yes by asking, "Is the Pope Catholic?" A variant of this would be to ask, "Is the Pope Pro-Life?": the answer should be equally obvious.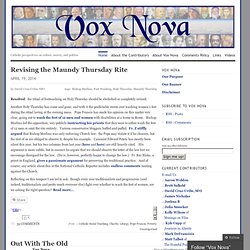 Vox Nova - Flock
A new home for Morning Catholic Must-Reads From today, Morning Catholic Must-Reads has a new home on The Catholic Herald's new website. Thank you for reading the blog here.
Editor's Briefing - Flock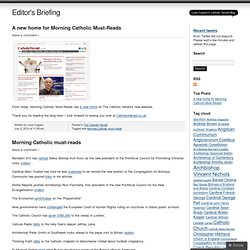 Le Blog du Curé - Flock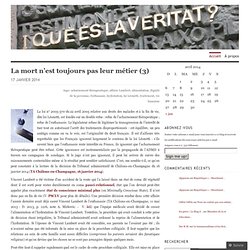 La loi n° 2005-370 du 22 avril 2005 relative aux droits des malades et à la fin de vie, dite loi Léonetti, est fondée sur un double refus : refus de l'acharnement thérapeutique ; refus de l'euthanasie. Le législateur refuse de légitimer la transgression de l'interdit de tuer tout en autorisant l'arrêt des traitements disproportionnés : cet équilibre, un peu ambigu comme on va le voir, est l'originalité du droit français. Il est d'ailleurs très regrettable que les Français ignorent largement le contenu de la loi Léonetti : s'ils savent bien que l'euthanasie reste interdite en France, ils ignorent que l'acharnement thérapeutique peut être refusé.
Un fonds de dotation pour Le Salon Beige 12 janvier 2014 26 janvier : conférence sur l'embryon et les religions à Magny-les-Hameaux Michel Janva Posté le 12 janvier 2014 à 16h31 | Lien permanent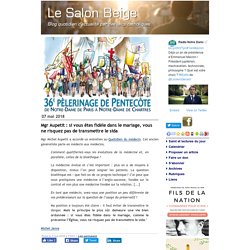 Le Salon Beige - blog quotidien d'actualité par des laïcs cathol