Rich-UI
Le temps de chargement d'une application informatique est un point essentiel en terme d'usabilité. Il a un impact important sur l'expérience utilisateur, tellement important qu'il peut être le facteur décisif d'adhésion ou de rejet de l'application par les utilisateurs qui se font un avis en 2-3 secondes. On a tous des exemples douloureux en tête… ou pas d'ailleurs… et c'est bien ça le drame : ces applications passent aux oubliettes! Les site web sont évidemment très concernés par cette problématique, la concurrence est rude sur la toile… et les plus performants marquent des points face à leurs concurrents, des points qui valent très cher! Les grands du web (Google, Yahoo, etc.) l'ont bien compris et en ont fait leur priorité n°1. Le problème : le temps de chargement d'une page web dépend de la richesse du contenu et des fonctionnalités qu'elle offre… autant de choses qui sont de plus en plus attendues par les utilisateurs.
Optimiser le temps de chargement d'une application GWT (1/2)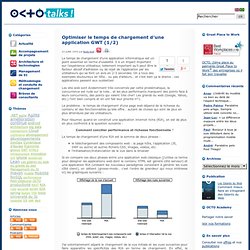 GWT allows you to extend the animation class and create your own custom animations. I was reading this post earlier today and decided to take that code a little further and put it all together into a workable GWT project in Eclipse. I used Eclipse 3.6 (Helios) along with the Plug-in for Eclipse using the GWT SDK (2.0.4). Create a new GWT Project: With the default files generated we need to delete some that won't be of any use to us.
Creating a custom GWT animation
UIBinderFR - sfeir - Un premier example d'utilisation de UIBinder - SFEIR Contributions to the Open Source Community
UiBinder est une nouvelle approche dans la conception des interfaces GWT qui est incluse depuis peu dans les sources officielles et qui devrait donc être disponible au public lors de la sortie très attendue de GWT 2.0 Ui binder offre une approche déclarative pour la conception de widgets, en permettant de les définir en XML ou même d'avoir plusieurs templates xml pour un même widget, c'est une nouvelle vision de la conception qui va « dans le bon sens » selon de nombreux experts du domaine. Pour pouvoir utiliser UIBinder, il vous faudra faire votre version de GWT 2 à partir du svn officiel, vous pouvez cependant utiliser celui fourni dans la section Downloads : http://sfeir.googlecode.com/files/gwt-windows-2.0.0.r5926.zip Il faut maintenant créer un nouveau projet GWT en utilisant le SDK téléchargé à l'adresse vue plus haut pour utiliser les nouveautés déjà implémentées de GWT 2.0, dont fait partie UIBinder.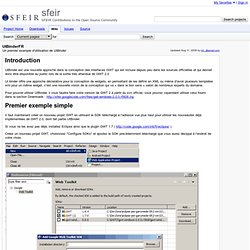 gwt-tagcloud - A gwt composite to create a tag cloud
I do not do any GWT anymore myself, but anyone is welcome to contribute. I add committers on demand :) Description Pure gwt composite to create easily a tagcloud of almost anything.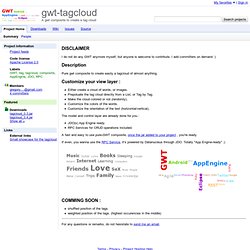 Vaadin et PrimeFaces : impressionnant comment les RIA s'équipent en Java
fév 17 Je sors de ma grotte après de longs, non, très longs mois d'hibernation technologique. Je redécouvre le monde tel qu'il est à présent J'avais été très déçu du peu d'innovation dont faisait preuve Java durant les deux dernières années et j'avais donc mis la pédale douce sur la veille techno de ce côté, préférant m'intéresser ces derniers temps beaucoup plus au développement mobile. Les deux frameworks que je viens de découvrir (honte à moi pour le temps qu'il a fallu !! ) sont plutôt impressionnants avec une préférence pour le second.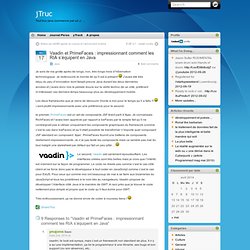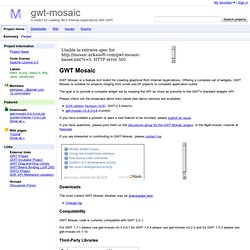 gwt-mosaic - A toolkit for creating Rich Internet Applications with GWT
GWT Mosaic is a feature rich toolkit for creating graphical Rich Internet Applications. Offering a complete set of widgets, GWT Mosaic is suitable for projects ranging from small one-off projects to complete application suites. The goal is to provide a complete widget set by keeping the API as close as possible to the GWT's standard widgets API. Please check out the showcase demo links below (two demo versions are available):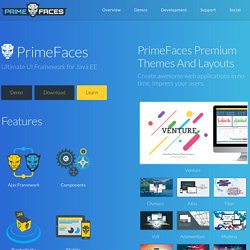 Gregory Cooper "PrimeFaces is great. It's the first set of JSF components that I have actually liked.
Rich user interface components By building your application from the hundreds of polished components that are available, you can focus on designing the best user experience. Built on HTML5 Lightning fast rendering and modern web technologies let you move even the most demanding applications to the web platform with ease. No need for installations or plug-ins. Looks matter Your application is percieved to be as good as its user interface. Use one of the amazing themes bundled with Vaadin or create a tailored look and feel for your application.