CONGRESSIONAL
Conservative News, Views & Books. United States House of Representatives, 111th Congress, 2nd Session. U.S. Senate. Search Bill Summary & Status - 111th Congress. The Library of Congress > THOMAS Home > Bills, Resolutions > Search Bill Summary & Status Related Resources at the Library Find the Law Library on: Search Bill Summary & Status 111th Congress (2009-2010)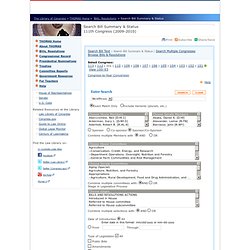 What the heck has Obama done so far?
Politisite | Politics from the RIGHT Side of the Web. OpenSecrets - Money in Politics. Politics, Political News. TheHill.com. CQ-Roll Call | Congressional News, Legislative Tracking, Transcripts, Government Documents and more. Everything Our Government Really Does. Roll Call. Breaking National and World News. Federal News Service - Congressional Transcripts Online. U.S. National Debt Clock : Real Time. C-SPAN | Capitol Hill, The White House and National Politics.
THE WASHINGTON POST. U.S. Congress News. Congress.org - Get informed, get involved. NewsBusters.org | Exposing Liberal Media Bias.
---