BRUCE LEE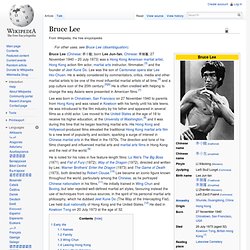 Bruce Lee (Chinese: 李小龍; born Lee Jun-fan, Chinese: 李振藩; 27 November 1940 – 20 July 1973) was a Hong Kong American martial artist, Hong Kong action film actor, martial arts instructor, filmmaker,[3] and the founder of Jeet Kune Do. Lee was the son of Cantonese opera star Lee Hoi-Chuen. He is widely considered by commentators, critics, media and other martial artists to be one of the most influential martial artists of all time,[4] and a pop culture icon of the 20th century.[5][6] He is often credited with helping to change the way Asians were presented in American films.[7]
Bruce Lee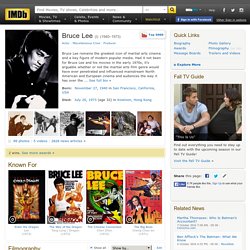 Edit Personal Details Other Works: Author, The Tao of Jeet Kune Do Alternate Names:
The Bruce Lee Foundation
More than memorabilia... The vision for the Bruce Lee Action Museum is one of community, education, inspiration, and innovation. BLAM will not only be a place to view Bruce Lee memorabilia but it will be an interactive place of learning that willexplore the idea of action in all its forms as exemplified by the legacy of Bruce Lee. It will take a close look at Martial Action, Film Action, social interAction, self Actualization, and Action for change through the lens of Bruce Lee's life and accomplishments.
Biography | The Official Bruce Lee Site