AMAZING INVENTIONS
Thanks for checking us out on Kickstarter! If you have missed our successful Kickstarter project, please come and visit us at QuadMountain.com. This new site features the latest information. Colors coming, tech specs, testimonials, and ordering info. -- Thank you Kickstarter and the Kickstarter community from the Quad Mountain Team Make sure to check out the full video.
The Ultimate One - Quad Mountain (iPod Watch Wristband) by Tim McLellan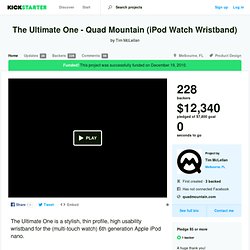 TikTok+LunaTik Multi-Touch Watch Kits by Scott Wilson » iPod Nano Colors
Q Collection
My Week With The iPod Nano Watch
When the first iPod Nano watch straps appeared on the scene in September, I was non-plussed. I've seen plenty of wrist-mounted MP3 players, phones, and other junk to understand that anything you wear on your wrist and still have to connect a pair of headphones to is bad news. In general, you look goofy and feel goofier.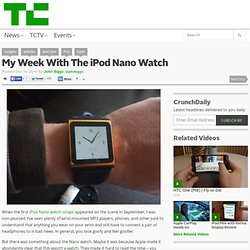 the Gadget Guide
Amazing Gadgets
Gadget Addict and Tech!