Curation
Les 5 bonnes raisons d'intégrer Pinterest à votre stratégie social media. A la fois réseau social et outil de curation, Pinterest est la start-up qui monte dans la Silicon Valley.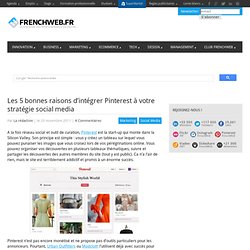 Son principe est simple : vous y créez un tableau sur lequel vous pouvez punaiser les images que vous croisez lors de vos pérégrinations online. Vous pouvez organiser vos découvertes en plusieurs tableaux thématiques, suivre et partager les découvertes des autres membres du site (tout y est public). Bundlr vs Scoop.it : duel d'un duo qui démocratise la Curation. Cet article a été publié il y a , il est donc possible qu'il ne soit plus à jour.
Signalez-nous toute information qui vous semblerait expirée. Ça ressemble plus ou moins à la tendance de 2011 en matière de diffusion et de consultation des informations sur le web, la a le vent dans le dos. Si « » en anglais est absolument transparent pour la démarche qu'il implique, j'avoue avoir un peu plus de mal avec « » en français, qui ne m'évoque pas grand chose au final… Ceci étant dit, le besoin de rassembler ses sujets et ses articles favoris sur une même page, accessible à tous, quelle qu'en soit l'origine, existe bel et bien. A New Business Model for Newspapers: From Standard To Curated Topic Subscriptions | Real-Time News Curation | Scoop.it. I'm seeing more Scoopit links in my Twitter stream and I'm not crazy about it.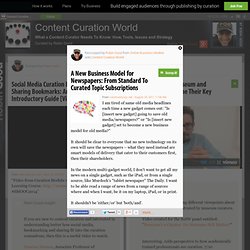 Sure it's quick and easy to share with Scoopit. But it not quick and easy to consume. For me it's all about the econ... Marty Note (here is comment I wrote on Dr. V's blog) A new business model for newspapers: forget gadgets - think of articles as apps - EJC - Online Journalism Community. I am tired of same old media headlines each time a new gadget comes out: "Is [insert new gadget] going to save old media/newspapers?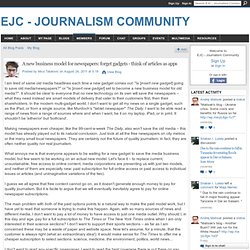 " or "Is [insert new gadget] set to become a new business model for old media? ". It should be clear to everyone that no new technology on its own will save the newspapers – what they need instead are smart models of delivery that cater to their customers first, then their shareholders. In the modern multi-gadget world, I don't want to get all my news on a single gadget, such as the iPad, or from a single source, like Murdoch's "tablet newspaper" The Daily. I want to be able read a range of news from a range of sources where and when I want, be it on my laptop, iPad, or in print. It shouldn't be 'either/or' but 'both/and'. Manifesto For The Content Curator: The Next Big Social Media Job Of The Future ?
Every hour thousands of new videos are uploaded online.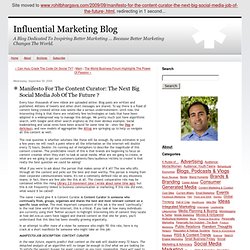 Blog posts are written and published. Millions of tweets and other short messages are shared. The 5 Models Of Content Curation. March 31, 2011 | 36 Comments Curation has always been an underrated form of creation.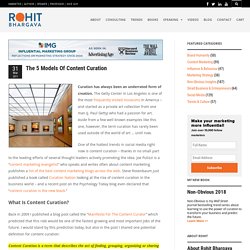 The Getty Center in Los Angeles is one of the most frequently visited museums in America – and started as a private art collection from one man (J. Paul Getty) who had a passion for art. Aside from a few well known examples like this one, however, the term curation has rarely been used outside of the world of art … until now. One of the hottest trends in social media right now is content curation – thanks in no small part to the leading efforts of several thought leaders actively promoting the idea. Real-Time News Curation - The Complete Guide Part 7: Business Applications And Trends. Real-Time News Curation: Part 7 - Business Opportunities 1.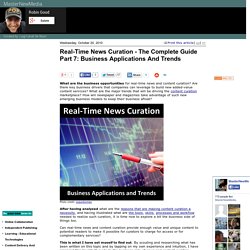 Where Is The Money 2. Key Business Drivers. An Amazing Example of Curated Content: Free as a Business Model | IdeaEconomy.Net. An Amazing Example of Curated Content: Free as a Business Model February 9th, 2011 · No Comments · Ideas Big Ideas: There are numerous examples of companies prospering by giving away their product for free.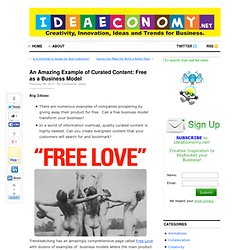 La curation c'est de la merde » J'aurais pu écrire m€46€, j'aurais pu être subtil, j'aurais pu essayer d'être plus consensuel mais ce ne doit pas être dans mon "ADN" … Mais finalement en utilisant le mot de Cambronne je reste finalement très soft par rapport au fond de ma pensée.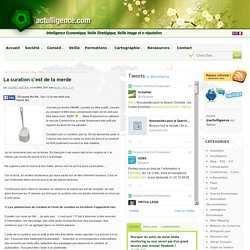 Curation par-ci, curation par-là. On se demande juste si c'est du nez dont on parle ou bien du fond d'un endroit où finit justement souvent la dite matière. Je ne reviendrai pas sur le terme. En français il est assez laid et en anglais je n'ai même pas envie de savoir d'où il a émergé… Curation Curation Curation and The Next Social Media Business Model | Primary Entrepreneur. Entretien avec Patrice Lamothe, fondateur de Pearltrees.com 2/2. Patrice Lamothe : « Il n'y a pas réellement d'obstacle en France pour lever des fonds pour créer une start-up » - Organiser le web / Carte d'identité biométrique et commerciale.
J-C Vitran & P.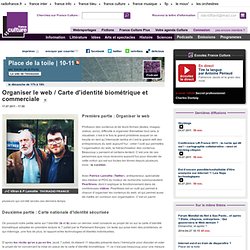 Lamothe th©Radio France Première partie : Organiser le web Profusion des contenus et de leurs formes (textes, images, vidéos, sons), difficulté à organiser thématiser tout cela, à visualiser, c'est à la fois le grand problème auquel on se heurte en tant qu'internaute lamba et c'est le grand défi des entrepreneurs du web aujourd'hui : créer l'outil qui permettra l'organisation du web, la hiérarchisation des contenus. Beaucoup y pensent et certains tentent. C'est une de ces personnes que nous recevons aujourd'hui pour discuter de cette notion qui est sur toutes les lèvres depuis plusieurs mois : la curation.
---