Associations
1001 fontaines pour demain - Accueil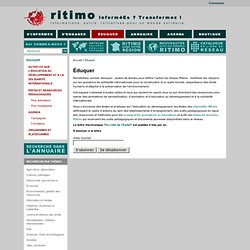 Accueil de l'espace EADSI
Sensibiliser, animer, éduquer... autant de termes pour définir l'action du réseau Ritimo : mobiliser les citoyens sur les questions de solidarité internationale pour la construction d'un autre monde, respectueux des droits humains et attaché à la préservation de l'environnement. Cet espace s'adresse à toutes celles et ceux qui veulent en savoir plus ou qui cherchent des ressources pour mener des animations de sensibilisation, d'animation et d'éducation au développement et à la solidarité internationale. Vous y trouverez des textes et analyses sur l'éducation au développement, les textes des dispositifs officiels définissant le cadre d'actions au sein des établissements d'enseignement, des outils pédagogiques en ligne, des ressources et méthodes pour les enseignants , animateurs ou éducateurs et enfin les bases de données Ritimo qui recensent les outils pédagogiques et documents jeunesse disponibles dans le réseau.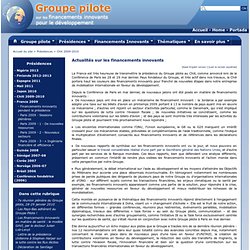 Actualités sur les financements innovants - Leading Group on Innovative Financing for Development
La France est très heureuse de transmettre la présidence du Groupe pilote au Chili, comme annoncé lors de la Conférence de Paris les 28 et 29 mai dernier. Pays fondateur du Groupe, et très actif dans nos travaux, le Chili portera haut les couleurs des financements innovants pour franchir de nouvelles étapes dans notre entreprise de mobilisation internationale en faveur du développement. Depuis la Conférence de Paris en mai dernier, de nouveaux jalons ont été posés en matière de financements innovants :
Association OTASIE
Collegium International
Indaba Network: free project management tools, wikis, blogs, mailing lists and task tracking for neighborhood and global communities.
Indaba-Network.français
Invest In France Agency
Page d'accueil
WebDuCoeur