Webware
On The Internet, Nobody Knows You're Not In The USA
A large number of web services are geographically restricted, such as Hulu , Pandora and Spotify . The reasons are usually to do with content licensing restrictions, or because US visitors (or visitors from other advanced economies) are of a higher value from a monetization perspective. A web application can only guess at the location of a visitor based on an IP address and other information, such as browser language and regional settings. IP addresses are mapped to countries (and in some instances, further to states and cities) using large commercial datasets such as GeoIP from Maxmind , which is a 'best guess' database based on data it has collected (how, I would rather not know). The system is accurate enough to enable services to block on a country level, but often fail at a more local level.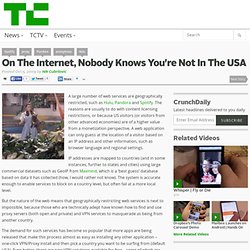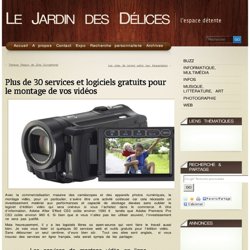 Plus de 30 services de montage vidéo en ligne
Avec la commercialisation massive des caméscopes et des appareils photos numériques, le montage vidéo, pour un particulier, s'avère être une activité coûteuse car cela nécessite un investissement matériel aux performances et capacité de stockage élevées sans oublier le logiciel d'édition vidéo qui sera onéreux si vous l'achetez dans le commerce. A titre d'information, Adobe After Effect CS3 coûte environ 1500 € tandis que Adobe Premiere Pro CS3 coûte environ 900 €. Si bien que si vous n'allez pas les utiliser souvent, l'investissement ne sera pas justifié. Mais heureusement, il y a les logiciels libres ou open-source qui vont faire le travail aussi bien. Je vais vous lister ici quelques 30 services web et outils gratuits pour l'édition vidéo. Sans débourser un seul centime, d'euro bien sûr.
Designate - The easy way to make decisions
Powered by: Speed.io is a modern DSL speed test to analyze your broadband internet access. If you find that your internet connection is too slow or you are just curious how fast it really is - speed.io is a perfect tool for a fast speed check - worldwide.
Office 2.0 Database
My Office 2.0 Setup
Live Blogging 2.0
My Office 2.0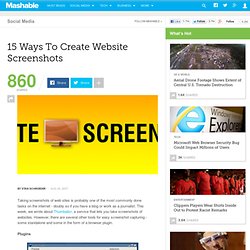 Taking screenshots of web sites is probably one of the most commonly done tasks on the internet - doubly so if you have a blog or work as a journalist. This week, we wrote about Thumbalizr , a service that lets you take screenshots of websites. However, there are several other tools for easy screenshot capturing - some standalone and some in the form of a browser plugin. Plugins Save as image - an aptly named Firefox plugin that lets you save a page, frame, or part of either as an image directly from Firefox. Pearl Crescent Page Saver - Save images of web pages in jpg or png format; save the entire page or just a portion of it, with the ability to automatically scale the image to a smaller size.
How to create website screenshots