Webdesign
Css. Favicon. Html. Resolution. Firebug. How to design a perfect background photoshop template for Twitte. One of Twitter's cool features is that you can really customize your profile, in particular with any background you want.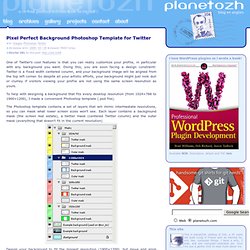 Doing this, you are soon facing a design constraint: Twitter is a fixed width centered column, and your background image will be aligned from the top left corner. So despite all your artistic efforts, your background might just look dull or clumsy if visitors viewing your profile are not using the same screen resolution as yours. How to design perfect Twitter background Ultimate Guide. Today, most businesses want a website.
Some already have one. Others want one. They don't want to hire IT staff and probably can't afford any. And in most cases, an in-house IT staff, especially for your typical small business, just isn't necessary. But, that doesn't mean that you have to go without or will be forced to use some cookie cutter website or a personal Frontpage experiment gone awry.
How to design a unique Twitter background. How to design your online twitter background. Get DocShots. Markdown. Download Markdown 1.0.1 (18 KB) — 17 Dec 2004 Introduction.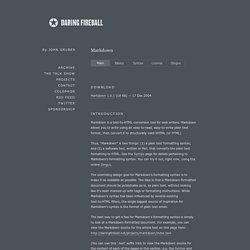 How to embed almost anything in your website. Learn how to embed videos, mp3 music, Flash videos (both swf and flv), pictures, fonts, spreadsheets, charts, maps and everything else into your blog or website.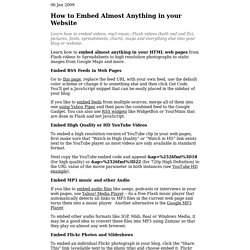 Learn how to embed almost anything in your HTML web pages from Flash videos to Spreadsheets to high resolution photographs to static images from Google Maps and more. Embed RSS Feeds in Web Pages Go to this page, replace the feed URL with your own feed, use the default color scheme or change it to something else and then click Get Code. You'll get a JavaScript snippet that can be easily placed in the sidebar of your blog. CSS Toolbox. Free CSS Toolbox is a freeware productivity software for web developers who work with CSS code.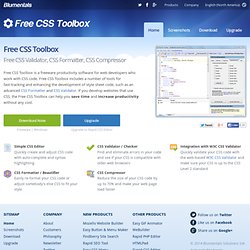 Free CSS Toolbox includes a number of tools for fast-tracking and enhancing the development of style sheet code, such as an advanced CSS Formatter and CSS Validator. If you develop websites that use CSS, the Free CSS Toolbox can help you save time and increase productivity without any cost. Upgrade Upgrade to Rapid CSS Editor.
10 online photo editors. Online image editors are in a rage these days.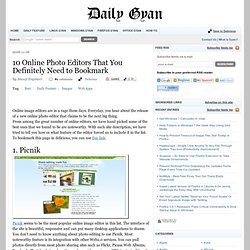 Everyday, you hear about the release of a new online photo editor that claims to be the next big thing. From among the great number of online editors, we have hand picked some of the best ones that we found to be are noteworthy. With each site description, we have tried to tell you how or what feature of the editor forced us to include it in the list. To bookmark this page in delicious, you can use this link. Notepad++ E - TextEditor. Feng Shui for graphic user interfaces. Understanding CSS Positioning part 1. Understanding CSS Positioning part 1 Without a doubt, positioning, or the layout, is the hardest part of CSS.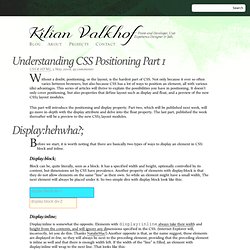 Not only because it ever so often varies between browsers, but also because CSS has a lot of ways to position an element, all with various (dis) advantages. This series of articles will thrive to explain the possibilities you have in positioning. 9 CSS ethics every designer should have. Nov 10 2007 No need to get any more complicated structure than you need to.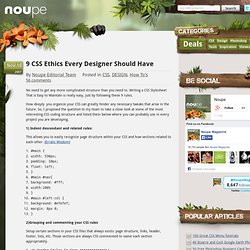 Writing a CSS Stylesheet That is Easy to Maintain is really easy, just by following these 9 rules. How deeply you organize your CSS can greatly hinder any necessary tweaks that arise in the future. So, I proposed the question to my team to take a close look at some of the most interesting CSS coding structure and listed them below where you can probably use in every project you are developing. 1) Indent descendant and related rules: CSS Category. RSS / Twitter Feed Reader using jQuery Wednesday, May 30th, 2012 In this article we will build an RSS / Twitter news-feed-reader-ticker.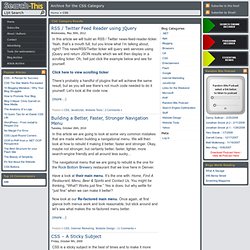 Yeah, that's a mouth full, but you know what I'm talking about, right? This news/RSS/Twitter ticker will query web services using jQuery and return JSON results which we will then display in a scrolling ticker. Oh, hell just click the example below and see for yourself. CSS - A recipe for success. If you look at most restaurant menus (or recipes) you will see the dish described on the left hand side followed by a dotted line that continues to the right side of the menu where the price is situated.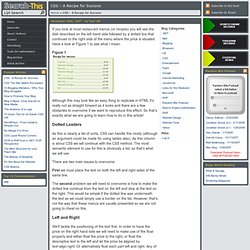 Have a look at Figure 1 to see what I mean. Figure 1. Genfavicon. Favikon.
---