Quicksilver
Bevy
CNET TechTracker will now automatically install software without requiring further action by you. (Note: This feature automatically accepts associated EULAs and third party applications on your behalf.) You have selected the following software to Smart Install: CNET TechTracker will attempt to install this software without interrupting you again. If an application requires manual installation, CNET TechTracker will download the installer and prompt you to take further action.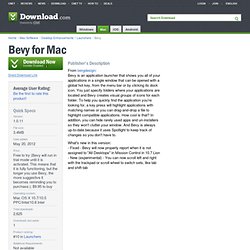 executor.dk
How to use Remember The Milk for Quicksilver
Quicksilver Tricks
Advertisements Many have tasted the increase in productivity by using Quicksilver as their Application launcher. Some even built more Quicksilver skins to make it look nicer. But only a few realized that there are still more Quicksilver actions available for them to use.
Windows only: Free application Executor is an application launcher very similar in look and feel to Lifehacker reader's favorite application launcher , Launchy. In fact, after a bit of testing Executor might have just snagged Launchy's place as the app launcher of choice on my Windows machine. One of the major differences between the two is Executor's emphasis on keywords. Although it does text search for just about anything, Executor gives priority to user-assigned keywords for launching apps, documents, and folders. What's more, you can assign a keyboard shortcut to any keyword for quick launches without even invoking Executor.
Executor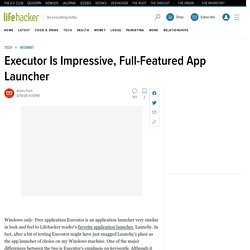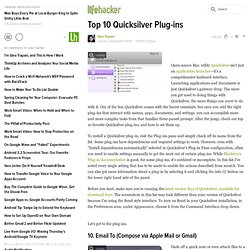 Open source Mac utility Quicksilver isn't just an application launcher —it's a comprehensive keyboard interface. Launching applications and documents is just Quicksilver's gateway drug: The more you get used to doing things with Quicksilver, the more things you want to do with it. Out of the box Quicksilver comes with the barest essentials, but once you add the right plug-ins that interact with menus, apps, documents, and settings, you can accomplish more and more complex tasks from that familiar three-paned prompt. After the jump, check out top 10 favorite Quicksilver plug-ins, and how to set them up. To install a Quicksilver plug-in, visit the Plug-ins pane and simply check off its name from the list. Some plug-ins have dependencies and required settings to work.
Top 10 Quicksilver plug-ins
How to control iTunes with Quicksilver
The MacApper weblog has a detailed post on how you can use Lifehacker-favorite Quicksilver to control iTunes. I touched on controlling iTunes with Quicksilver previously in my advanced Quicksilver guide , but this post covers more of the nitty gritty necessary to install the iTunes plug-in and configure powerful triggers (it's also a good general tutorial for using Quicksilver triggers). After the jump, check out my video demonstrating how I control iTunes with Quicksilver. As you can see, Quicksilver combined with iTunes packs a pretty powerful punch. If you want to get good with Quicksilver, check out my series of Quicksilver guides designed to take you from beginner to advanced Quicksilver usage. — Adam Pash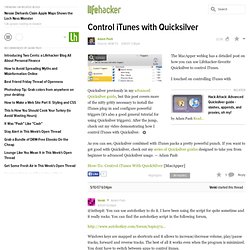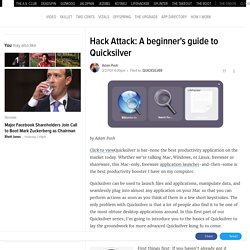 A beginner's guide to Quicksilver
by Adam Pash Click to view Quicksilver is bar-none the best productivity application on the market today. Whether we're talking Mac, Windows, or Linux, freeware or shareware, this Mac-only, freeware application launcher -and-then-some is the best productivity booster I have on my computer. Quicksilver can be used to launch files and applications, manipulate data, and seamlessly plug into almost any application on your Mac so that you can perform actions as soon as you think of them in a few short keystrokes. The only problem with Quicksilver is that a lot of people also find it to be one of the most obtuse desktop applications around.
by Nick Santilli I'm not the most organized person around, but when it comes to my computer I'm set in my ways of folders within folders within folders. I'd bet you're much the same way. But a few months back I abandoned my hierarchical folder tree, and now, all my files are dumped into the Documents folder. It's ugly, and I don't really like to look at it. Ever.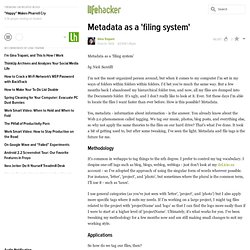 Metadata as a 'filing system' with Quicksilver