Hosting
16 Apps That Make Sharing Large Files A Snap. File sharing services are not as popular today as they were four years ago.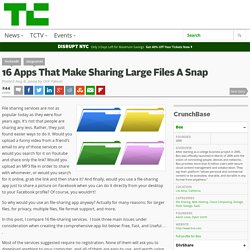 It's not that people are sharing any less. Rather, they just found easier ways to do it. Would you upload a funny video from a friend's email to any of those services or would you search for it on Youtube and share only the link? How to turn your home computer into a web server; host files, do. Learn how to turn your home computer into a personal web server and host files, documents, music, web pages, photographs and other content from your computer for free.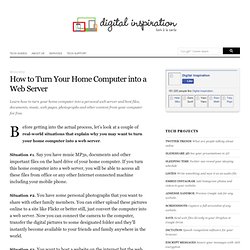 Before getting into the actual process, let's look at a couple of real-world situations that explain why you may want to turn your home computer into a web server. Situation #1. Say you have music MP3s, documents and other important files on the hard drive of your home computer. If you turn this home computer into a web server, you will be able to access all these files from office or any other Internet connected machine including your mobile phone. Share1t.com. [ file ai ] How to send files larger than 1GB. Rapidshare search files. How to store file online with File Dropper. 20 BitTorrent Tips and Tricks. Here's a list of 20 BitTorrent resources, tips and tricks, useful for both newcomers and more advanced users.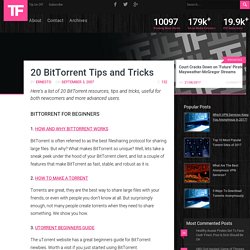 BitTorrent For Beginners 1. How and Why BitTorrent Works BitTorrent is often referred to as the best filesharing protocol for sharing large files. TransferBigFiles. Use BitTorrent / Wired How To's.
---