Sport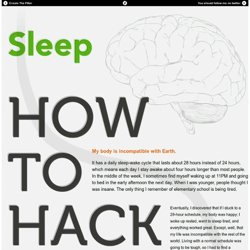 My body is incompatible with Earth. It has a daily sleep-wake cycle that lasts about 28 hours instead of 24 hours, which means each day I stay awake about four hours longer than most people. In the middle of the week, I sometimes find myself waking up at 11PM and going to bed in the early afternoon the next day. When I was younger, people thought I was insane.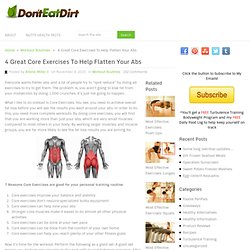 Everyone wants flatter abs, and a lot of people try to "spot reduce" by doing ab exercises to try to get them. The problem is, you aren't going to lose fat from your midsection by doing 1,000 crunches. It's just not going to happen. What I like to do instead is Core Exercises. You see, you need to achieve overall fat loss before you will see the results you want around your abs. In order to do this, you need more complete workouts.
Top 6 Yoga Poses for Back Pain
By Sadie Nardini Saturday, September 08, 2012 Because September is National Yoga Month, we are updating a previous story with a handy downloadable infographic. Good News Network viewer Mehndi Rao created the infographic to illustrate the 6 poses in the article below as a ready reference.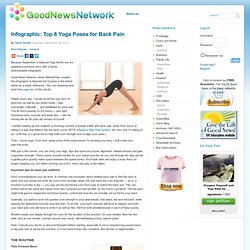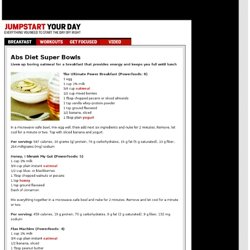 Liven up boring oatmeal for a breakfast that provides energy and keeps you full until lunch The Ultimate Power Breakfast (Powerfoods: 8) 1 egg 1 cup 1% milk 3/4 cup oatmeal 1/2 cup mixed berries 1 Tbsp chopped pecans or sliced almonds 1 tsp vanilla whey-protein powder 1 tsp ground flaxseed 1/2 banana, sliced 1 Tbsp plain yogurt In a microwave-safe bowl, mix egg well, then add next six ingredients and nuke for 2 minutes. Remove, let cool for a minute or two. Top with sliced banana and yogurt.
30 Minutes to a Sleek Physique: The No-Equipment Workout You Can Do Anywhere