DIY Gift Ideas
10 great DIY Mother's Day gifts. It's almost Mother's Day and off course we all want to give our mother's something really special.
And what is more special then something handmade? I love to give handmade gifts. It's so much more personal! That's why I present to you my top 10 of DIY Mother's Day gifts. TUTORIAL: Coffee Stirrer DIY Wall Art - makeanddogirl.com. Last week, I posted a preview of the simple, inexpensive wall art my mom and I created.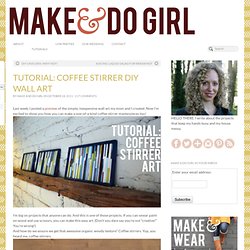 Now I'm excited to show you how you can make a one-of-a-kind coffee stirrer masterpieces too! I'm big on projects that anyone can do. And this is one of those projects. If you can smear paint on wood and use scissors, you can make this easy art. (Don't you dare say you're not "creative!" Cake postcard tutorial. Make a mailable slice of cake I have so many friends and family members that always say "I wish you could mail me a birthday cake!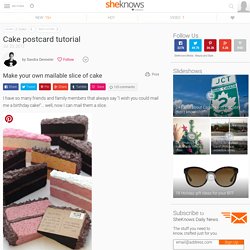 " ... well, now I can send them a slice. Imagine how happy and excited you'd be, if you went to your mailbox one day and pulled out a slice of cake.
For Her. Baby Shower. Wrapping. For Teachers. For Kids. InspireMe Crafts: Clever Gift Ideas for Christmas. Make This Gift: Stitched Map Art! : Wantist. Stitched Map Art, photo from Martha Stewart Living Maybe it's the weather (or all those delicious fall smells), but I've been feeling mighty nostalgic lately.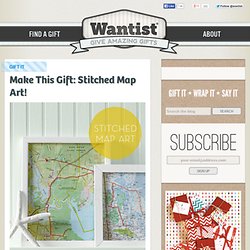 Anyone else feeling wistful these days? I was reminiscing about past adventures just recently when I spotted this great little DIY art and gift idea from Martha Stewart Living. Celebrate and remember family vacations or road trips with friends by hand-stitching the route on maps and framing them—brilliant! It's sentimental without being too cheesy; handmade without looking like a summer camp craft you made in the 4th grade; and inexpensive without looking cheap or last-minute.
---