Digital publishing
looking for diffrent ways to publish my photonovel as an ebook or app i came a cross a lot of services and guides many will find useful. Mar 11
Emoji Dick, the oh-man-how-did-this-actually-work-out emoji translation of Moby Dick, is now in the Library of Congress. Why wouldn't it be. Emoji Dick originated in 2009, on Kickstarter. The book was compiled by Fred Benenson, who contracted thousands of people to translate one sentence of the book into emoji—each sentence of the book three times—and had the best translations voted into place. It raised a bit over its $3,500 goal, across 83 backers. We also heard from Benenson late last year, when his emoji Eustace Tilley was a finalist in the New Yorker's yearly contest.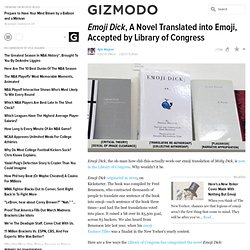 Emoji Dick, A Novel Translated into Emoji, Accepted by Library of Congress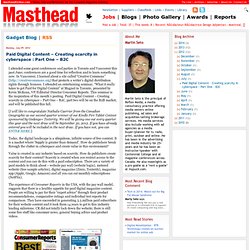 Masthead Online Blogs - Gadget Blog
I attended some great conferences and parties in Toronto and Vancouver this past June; conferences are a good time for reflection and to learn something new. In Vancouver, I learned about a site called "Creative Commons" (http://creativecommons.org) that protects a writer's digital distribution rights through licenses. I attended an entertaining seminar, "What it really takes to get Paid for Digital Content" at Magnet in Toronto, presented by Kevin McKean, VP/Editorial Director Consumer Reports. This seminar is the inspiration of this month's posting. Paid Digital Content – Creating scarcity in cyberspace – Part One – B2C, part two will be on the B2B market, and will be published this fall.
2012 Digital Publishing Industry Report - The Future of Ink
Curious as to how your peers are using digital publishing to promote and grow their businesses? Planning to publish a book in the near future, but wondering how your colleagues are going about this? And if you have already published, do you want to know what next steps your colleagues are taking to leverage digital publishing even further? In our first annual digital publishing study, more than 1000 online entrepreneurs…including coaches, consultants, trainers, speakers and other small business owners…reveal how they are currently using and plan to use… digital publishing in their businesses. A Quick Preview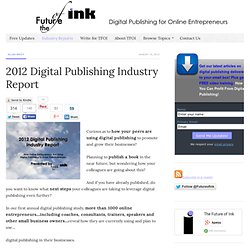 We're witnessing another sea change in Web publishing. From Pinterest at the beginning of this year to the launch this week of a new product from two Twitter founders, Medium, 2012 has been a year where the norms of publishing are being challenged. It wasn't that long ago that Tumblr and Wordpress were the cutting edge of publishing. But there's a new edge and it's populated by the likes of Medium (a kind of categorized Tumblr), Branch (the sister site of Medium, for discussions), App.net (a microblogging platform) and Svbtle (an elite network of indie bloggers).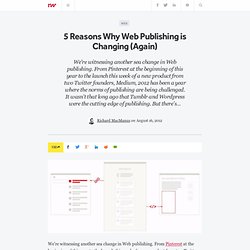 5 Reasons Why Web Publishing is Changing (Again)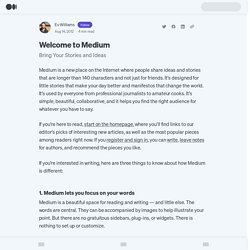 Medium is a new place on the Internet where people share ideas and stories that are longer than 140 characters and not just for friends. It's designed for little stories that make your day better and manifestos that change the world. It's used by everyone from professional journalists to amateur cooks. It's simple, beautiful, collaborative, and it helps you find the right audience for whatever you have to say. If you're here to read, start on the homepage, where you'll find links to our editor's picks of interesting new articles, as well as the most popular pieces among readers right now. If you register and sign in, you can write, leave notes for authors, and recommend the pieces you like.
Welcome to Medium — About Medium — Medium
iBuildApp :: Create Free iPhone App Using Online Interface Builder| Android, iPad
Calaméo – Publish your documents
Publish documents to any devices! The first free document publishing platform to support iPad, iPhone and iPod Touch. Share with the world!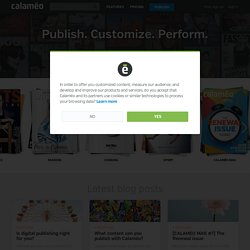 eBook App Maker » How Our App Works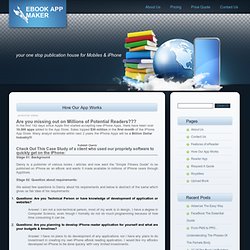 Are you missing out on Millions of Potential Readers??? In the first 142 days since Apple first started accepting new iPhone Apps, there have been over 10,000 apps added to the App Store. Sales topped $30 million in the first month of the iPhone App Store.
Make a blog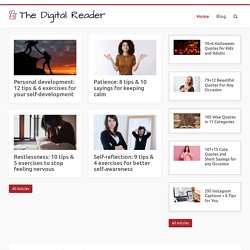 The Digital Reader - The Best News and Info on eReaders and Tablets
The Morning Coffee – 14 January 2014 January 14th, 2014 by Nate Hoffelder · Morning Coffee Top stories this Tuesday morning include bookstores turning to new business models (link), a list for book lovers (link), a look at how evil Google has become (link), marginalia (link), and more. [Read more →] Judge Cote Swats Apple, Orders Anti-Trust Monitor to Stay and Monitor January 13th, 2014 by Nate Hoffelder · anti-trust, Apple, Denise Cote, lawsuit
Findings: discover, organize, and share your highlights
Hi, my name is D'vorah Lansky and I am excited to share this blog post, on the topic of Digital Publishing, with you. I'd like to thank Kathleen for hosting me during this virtual tour, in honor of Digital Publishing Virtual Summit, where we feature 20 world-renowned book marketing experts. Today I'll be talking about current trends in the Digital Publishing world.
Current Trends in the Digital Publishing World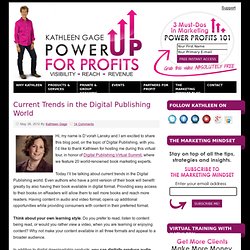 Tablets Are Destroying Stories by Micah Baldwin
I spend the majority of my day with creators, authors and publishers. The ability of storytellers to see a world that could exist and share it with words and pictures is amazing. When I am not chatting with storytellers, I am talking about how to distribute their stories digitally. Easy right? Just put it on iBooks or Kindle or NOOK.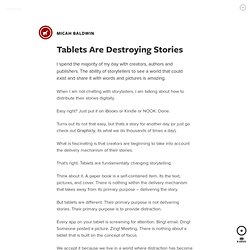 Zopler is an interesting free service for collaboratively writing stories. The basic idea behind Zopler is to enable the creation of community-crafted stories. Here's how it works; as a member of Zopler you can start a story with as little as one sentence or as much as 1000 words. Your story starter can include images too. Then you can make your story starter public or private. If you make it public, any Zopler member can add to it.
Zopler - Collaborative Storytelling
Byliner
The New Yorker to Tweet Entire Short Story - 10,000 Words
Professional translation services are available to publishers who are interested in translating their KDP work into other languages, further widening their global audience. Finding a Translator for Your Desired Language This site lists several associations in Europe that may help you find freelancers to translate your work. You may need to use an online translation site or browser plugin to navigate the freelancers' websites, since they're generally displayed in their native language.
Kindle Direct Publishing: Help
0inShare0inShare We often use this blog to give helpful tips and pointers for users of digital magazine software. We thought it might be useful to highlight some common mistakes that are made when creating these digital magazines and how to avoid them. Online digital versions have so many benefits for both your end reader and your business so make sure you avoid these mistakes in order to gain maximum effectiveness.
3 frequent mistakes to be avoided during the creation of your digital publication
By the time Apple released the iPad in April of 2010, only four months after Steve Jobs first announced his "magical and revolutionary" new machines, traditional publishers were gripped by a collective delusion. They had convinced themselves that tablet computers and smart phones would allow them to unwind their unhappy histories with the Internet. For publishers whose businesses had evolved during the long day of print newspapers and magazines, the expansion of the Internet was terribly disorienting. The Web taught readers that they might read stories whenever they liked without charge, and it offered companies more efficient ways to advertise; both parties spent less. Things Reviewed:Technology Review iPad app version 2.0 The Daily iPad-only newspaper Financial Times html5 website www.ft.com
Why Publishers Don't Like Apps
Storyboard
3 Ways to Visualize Text with Infomous
Share Comics on Facebook, For the First Time Ever!
How to Promote Your Book Using the New Facebook Timeline Features
12 Ways to Increase Your Readership Using Facebook Timeline
As tablet usage grows, can publishers evolve fast enough?
Publications Publishers Cite Tablets As Top Tech Priority 03/21
appumentary, app-book and photonovels
5 Digital Publishing App Trends to Watch in 2012
Adults Now Spend More Time With Mobile Devices Than With Print Media
More Thoughts on Magazines and Publishing on the iPad — carpeaqua by Justin Williams
Encyclopedia Britannica Calls Off Its Print Edition And Goes Digital