Governance
Get flash to fully experience Pearltrees
Seven obstacles to making good decisions about impact evaluations and how to avoid them.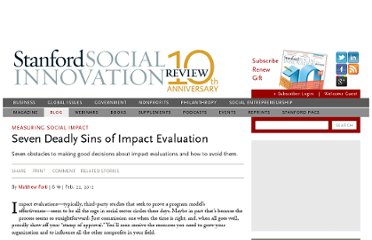 Do not file Form I-9 with USCIS or U.S. Immigrations and Customs Enforcement (ICE). Employers must have a completed Form I-9 on file for each person on their payroll who is required to complete the form.
Steve Hebert for The New York Times
When it comes to building relationships and trust with prospective donors and volunteers, service users or program participants and other vital audiences, the smallest details can make a huge impact, especially when they're about your organization's people. Relationships are built person-to-person, not person-to-organization.
Each day in America, millions of kids go home to an empty house after school.
Charities are protesting Congressional plans to gradually phase out the discounts they receive for mail appeals and other materials.
This guest post is by Art Markman , a professor of psychology and marketing at the University of Texas at Austin, executive editor of the journal Cognitive Science and a member of the editorial board of Cognitive Psychology. Follow him on Twitter at @abmarkman . Knowledge is a key driver of business success.
by Tony Schwartz | 11:17 AM November 1, 2011 Myth #1: Multitasking is critical in a world of infinite demand.