Burhop
Mark Burhop
Siemens Smart Chopper: Cast Your Vote!
Siemens Smart Chopper: Cast Your Vote!
Looks like my daughter has a good seat for today's #bama bball g
Lane Kiffin Leaves USC For Dream Job At GameStop | The Onion - A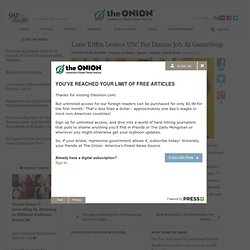 LOS ANGELES—During his introductory press conference as USC's new head coach last Wednesday, Lane Kiffin told reporters that he would be leaving the school indefinitely to pursue his dream of working at GameStop. "I was approached by a cousin who works at the GameStop on Wilshire Boulevard, and when he said there was an open sales clerk position, I had to take it," said Kiffin, who then proudly placed a GameStop baseball cap on his head. "I have been going to that GameStop for years. I know the people there. I know the customers.
Video - Allstate Sugar Bowl Video Central - FOX Sports on MSN
Huge game winning shot
Purchase Photo | IMAGEMEDIA10010317533... | News & Observer
Missing wires- installing new car stereo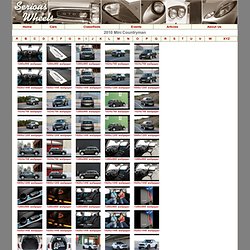 (from Mini Press Release) Fun has no Limits: The MINI Countryman*. (* The name of the car may vary in some markets.) MINI is adding a fourth model to the family, opening up a new dimension of that unmistakable MINI feeling. As a genuine Crossover, the MINI Countryman bridges the gap between the classic concept of the MINI and a modern Sports Activity Vehicle.
2010 Mini Countryman