Good Eat And Drink
Think about Scooter's Pies for your Parties, Book Club, Dinner Parties, Birthdays, Yourself (you deserve it!) Turtle Pie Oreo Pie Chocolate Turtle Pie Reese's Choose one of the pies available in our freezer for last minute pick up. Or, if you would like a different flavor (ie. Strawberry, "Elvis", Snickers, Cookie Dough, Mint Oreo....) call at least 3 Days in advance and we can do a special order. ...Or...is a Frozen Custard Pie not quite right for your event?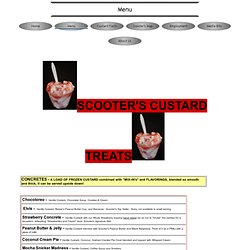 Menu
Chicago Thai Restaurants
FoodieView - The Recipe Search Engine
Wishbone Chicago Restaurant | Southern Reconstruction Cooking
Petterino's Restaurant | » Menu
Petterino's Restaurant |
Table Fifty-Two Restaurant Chicago Chef Art Smith
avec
Brazzaz.com | Brazilian Steak House | Brazilian Steakhouse | Brazilian Restaurant | Gauchos | Churrascaria | RODÍZIO
Joe's Seafood, Prime Steak & Stone Crab Restaurant - A Miami Legend in Chicago and Las Vegas
Spiaggia Restaurant | Fine Dining on Downtown Chicago's Michigan Ave.
Argo Tea Café | Serving Healthy Signature Drinks in Chicago and New York
Harry and David Gourmet Gifts, Gift Baskets, Fresh Fruit Gifts, Gourmet Chocolates and Monthly Gift Clubs.
Cookies, Desserts, Gifts - Cheryls
Gift Baskets by Gourmet Gift Baskets: Wine Gift Baskets, Fruit Baskets, Corporate Gift Baskets and More