Household Stuffs
Zipper Bracelet. Map Basket. Maps can be amazing design elements, with all their intricately drawn lines and minute details.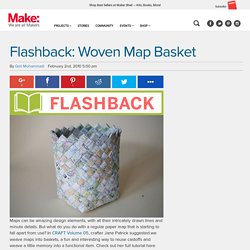 But what do you do with a regular paper map that is starting to fall apart from use? In CRAFT Volume 05, crafter Jane Patrick suggested we weave maps into baskets, a fun and interesting way to reuse castoffs and weave a little memory into a functional item. Check out her full tutorial here and pick up a back issue of CRAFT Volume 05, the Paper issue, in the Maker Shed.Woven Memory Basket Weave your vacation road maps into an attractive souvenir. By Jane Patrick Think of basketry as three-dimensional weaving.
Bread Tag Monsters. Eeeee!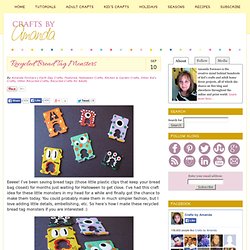 I've been saving bread tags (those little plastic clips that keep your bread bag closed) for months just waiting for Halloween to get close. I've had this craft idea for these little monsters in my head for a while and finally got the chance to make them today. Matchbook Notepad. In an effort to use up the damaged & small surplus of 2010 calendars I have on-hand, I've been experimenting with ways to repurpose them.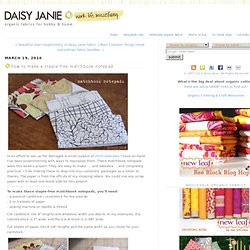 These matchbook notepads were this week's project. They are easy to make .... and adorable ... and completely practical. I'll be making these to drop into my customers' packages as a token of thanks. Notebook Decoupage. Button Coaster. Upload Tumblr Subscription preferences Loading...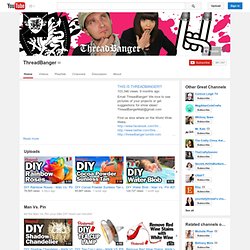 Earring Display. This fun little shabby chic earring stand, made from an altered picture frame, is a great way to hang and display all your beautiful, dangling earrings.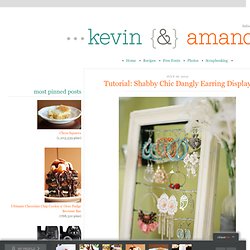 I had the idea for this project after we talked about my love affair with dangly earrings and how to display them. I don't know about you, but I just love seeing them all hanging in a row! Salt Pouches. I love salt scrubs, especially this time of year when I want to slough off the dead skin from winter, and I equally love bath salts for the skin softening ingredients in them – but more often than not I find myself in the shower.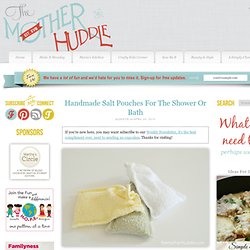 These pouches are perfect for combining both bath salt and salt scrub into an exfoliating pouch I can bring into the shower, and they are simple to make. You can go a few different routes when making these so play around with your recipes and find your favorite. I made these for my mom for Mother's Day so I added a few things for specific reasons. I will list them to give you an idea of how you can customize these to suit your needs.
---