SCORM
ADLnet - Advanced Distributed Learning: Home Page. Sharable Content Object Reference Model. Un article de Wikipédia, l'encyclopédie libre.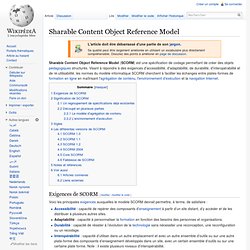 Sharable Content Object Reference Model (SCORM) est une spécification de codage permettant de créer des objets pédagogiques structurés. Visant à répondre à des exigences d'accessibilité, d'adaptabilité, de durabilité, d'interopérabilité et de ré-utilisabilité, les normes du modèle informatique SCORM cherchent à faciliter les échanges entre plates-formes de formation en ligne en maîtrisant l'agrégation de contenu, l'environnement d'exécution et la navigation Internet. Exigences de SCORM[modifier | modifier le code] Voici les principales exigences auxquelles le modèle SCORM devrait permettre, à terme, de satisfaire : RELOAD Project. IMS GLC :Learning Design Specification. The IMS Learning Design specification supports the use of a wide range of pedagogies in online learning.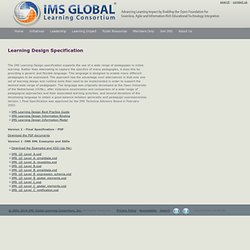 Rather than attempting to capture the specifics of many pedagogies, it does this by providing a generic and flexible language. This language is designed to enable many different pedagogies to be expressed. The approach has the advantage over alternatives in that only one set of learning design and runtime tools then need to be implemented in order to support the desired wide range of pedagogies. The language was originally developed at the Open University of the Netherlands (OUNL), after extensive examination and comparison of a wide range of pedagogical approaches and their associated learning activities, and several iterations of the developing language to obtain a good balance between generality and pedagogic expressiveness.
---