Jewish
Chanukah
Kosher Recipes - Joy of Kosher with Jamie Geller - Jewish Recipes and Menus. Yom HaShoah. Rosh Hashanah Recipes, Kosher Cooking, Jewish Menu, New Year Feast. Apples and Honey: Honey represents quality of life and wealth, as in the description of Israel as "the land of milk and honey.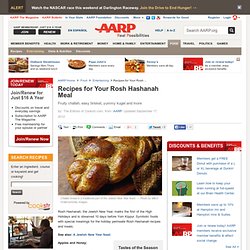 " Slices of apple dipped in honey are often given to Jewish children during Rosh Hashanah, and prayers are said asking God for a sweet year. Challah bread dipped in honey and honey cake are also popular traditional foods. Passover Recipes. Take a bite out of Passover.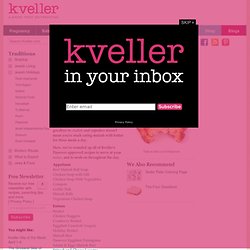 If Passover were a tree house, it would have a big "No Bread Allowed" sign taped to its door. Which is to say, Jewish law prohibits eating (or even owning) anything that is leavened (hametz) during Passover. But don't be discouraged--just because you have to say goodbye to challah and cupcakes doesn't mean you're stuck eating matzah with butter for three meals a day. Flourless Chocolate Cake.
Preheat oven to 350F.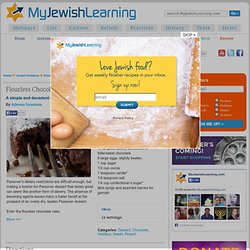 Grease a 10-inch springform pan, then line bottom of pan with parchment paper. In a small saucepan, combine chocolate and margarine and cook over medium-low heat, stirring occasionally, until completely melted. Remove from heat and let cool. 6 Healthy Passover Recipes. Judaism and Vegetarianism - Jewish Vegetarian Recipes.
Israeli/Sephardi. Jewish And Mexican Cooking Meet In 'Challa-peño' Hide captionJerry and Martha Schneider lived for many years in Mexico.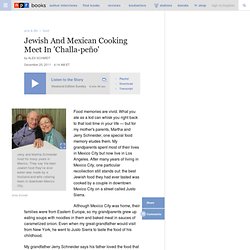 They say the best Jewish food they've ever eaten was made by a husband-and-wife catering team in downtown Mexico City. Anita Schmidt Jerry and Martha Schneider lived for many years in Mexico.
---