Mídias Sociais
What's on wall
Blog Mídia8! » Comunicação digital e redes sociais
Home page | Portal HSM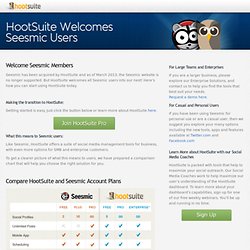 Seesmic has been acquired by HootSuite and as of March 2013, the Seesmic website is no longer supported. But HootSuite welcomes all Seesmic users into our nest! Here's how you can start using HootSuite today.
CONVERSION - Prazer, nós fazemos SEO de forma inovadora!
A real-time search engine for Facebook and Twitter.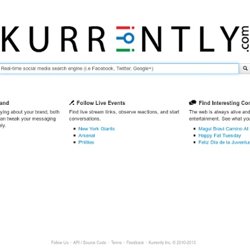 These Terms of Service constitute an agreement ("Agreement") between you ("you", "your", or "User") and Kurrently Inc. ("Kurrently", "us", "we" or "our"). By using Kurrently's search engine or other Kurrently services, including use of the Kurrently feeds or the website located at www.kurrently.com (collectively, the "Services"), you agree, without limitation or qualification, to be bound by, and to comply with, the terms of this Agreement.