Toread
SEHR, volume 4, issue 2: Constructions of the MindUpdated July 22, 1995
On Seeing A's and Seeing As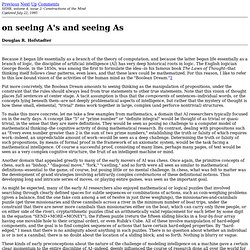 101 Atheist Quotes - The Atheist Blogger
Successful Strategies for Commenting Code
Introduction Commenting your code is like cleaning your bathroom—you never want to do it, but it really does create a more pleasant experience for you and your guests. Because I've recently adopted a new mantra to use comments frequently and appropriately in my code, I spent a few hours researching the literature on commenting readability, reusability, and guidelines.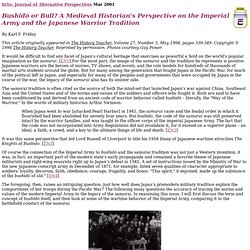 InYo: Bushido or Bull: Friday
InYo: Journal of Alternative Perspectives Mar 2001
Nobody can predict the future, but I'm going to make a few informed guesses. Let's suppose Intel is right: let's suppose that the Keifer project succeeds.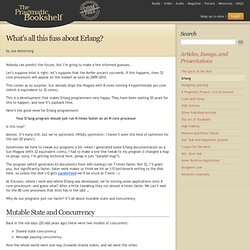 What's all this fuss about Erlang
Corruption in textbook-adoption proceedings: 'Judging Books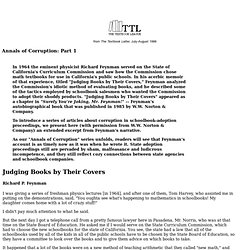 Judging Books by Their Covers Richard P. Feynman
Friday, March 17, 2006 5:45:42 PM (GMT Standard Time, UTC+00:00)
Jon Flanders' Blog:BizTalk and Windows Workflow Foundation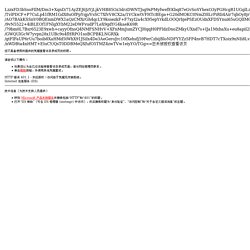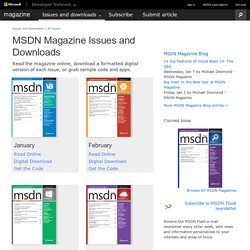 Wicked Code Asynchronous Pages in ASP.NET 2.0
Wicked Code: Asynchronous Pages in ASP.NET 2.0 -- MSDN Magazine,
OCEAN-FLOOR PLATES collide, shift along giant faults, or crack and spread apart.
Are people 'stuck' on Windows? « dreamcatching
Is Design Dead?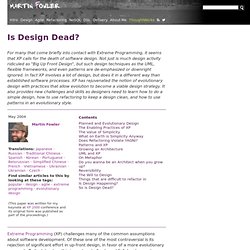 For many that come briefly into contact with Extreme Programming, it seems that XP calls for the death of software design.
Many of the tests that currently use browser-driving tools like Selenium, Watir, or Silk could use different implementation technologies. In the rest of this note, I describe the pros and cons of browser driving, HTTP driving, the Rails variant of HTTP driving, and app-layer driving. Context
Exploration Through Example » Blog Archive » Four implementation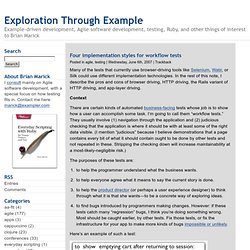 KurzweilAI.net
http://bp3.blogger.com/_9kROCtAPcEE/Ri7jpc5yf4I/AAAAAAAADHs/tcBb
As much as it hurts to admit it, most of the important decisions of website development are not made by design professionals. They're made by the business owners and middle managers who hire us. After all, it is they who hold the purse strings, so it's only fair that they set the online priorities. Unfortunately, this situation does have one major drawback. Although such people may be very well meaning, they are often blissfully unaware of the factors that should and do influence decision making on the web. The unhappy result is that poor investment choices are often made.
Educate Your Stakeholders!
The Natural Productivity Cycle In your personal life, when attending to business or working on side projects, how often do you spend 8 consecutive hours in front of a computer?
Why the 9 to 5 Office Worker Will Become a Thing of the Past
From design to meaning: a whole new way of pre
My favorite book of the summer is Daniel Pink's A Whole New Mind. A simple book in many ways, and a most profound and well-researched one as well. At 267 pages (in paperback), it's a quick read.
All For Games: An Interview with Warren Spector
Warren Spector is probably most acclaimed for his work on Deus Ex, but his experience has spanned many studios. From Origin, to Looking Glass Studios, to Ion Storm, Spector has made his mark, especially in terms of interactive story and depth of character immersion. Now, with his new Houston-based studio Junction Point (taking the title from a cancelled Looking Glass game), Spector plans to take all of that a step further, with a brand new intellectual property.
Erlang For The Practical Man