Sparklines
jQuery Sparklines. News 15 June 2013 - Version 2.1.2 Relased This release adds support for jQuery 1.10.0 and other bug fixes and minor improvements.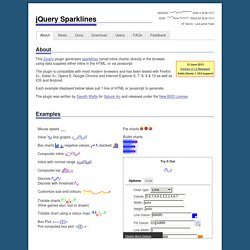 See the full changelog for details of all changes. 26 January 2013 - Version 2.1.1 Relased This release adds support for jQuery 1.9.0 along with a couple of other bug fixes. SVG Sparklines | overstimulate. Here is a screen capture if you don't have a SVG plugin: Sparklines Sparklines are Intense, Simple, Word-Sized Graphics to display more information than a graph or table could in the same amount of space.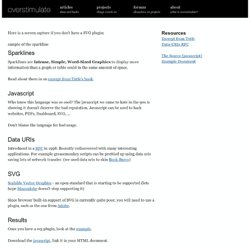 Read about them in an excerpt from Tutfe's book . Javascript Who knew this langauge was so cool? Sparklines in data: URIs in Python | 2005-04-25. Sparklines, as defined by Tufte, are intense, simple, word-sized graphics.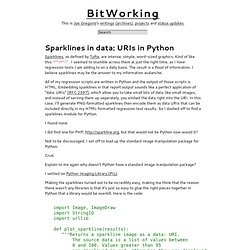 Kind of like this: . I seemed to stumble across them at just the right time, as I have regression tests I am adding to on a daily basis. The result is a flood of information. I believe sparklines may be the answer to my information avalanche. Sparkplot: creating sparklines with matplotlib. Edward Tufte introduced sparklines in a sample chapter of his upcoming book "Beautiful Evidence".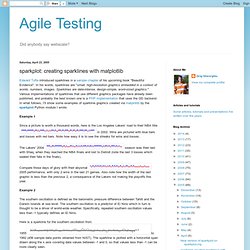 In his words, sparklines are "small, high-resolution graphics embedded in a context of words, numbers, images. Sparklines are data-intense, design-simple, word-sized graphics. "
---