Debt
www.treasury.gov/initiatives/Documents/DLDeMint062811.pdf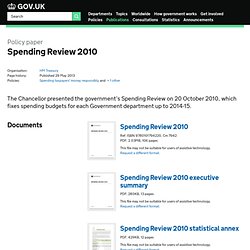 Spending Review
22 November 2010 Government announces spending plans – find out what it means for you and view the document in full The Chancellor, George Osborne, presented the Government's Spending Review on 20 October 2010, which fixes spending budgets for each Government department up to 2014-15. The Spending Review comes at a time when the State is spending significantly more money than it raises in taxation, and is having to meet the gap – called the deficit – by borrowing at record levels.
The Irish Times - Wed, Feb 16, 2011 - Government spending to fall by €3bn this year
Noonan to suggest EU guarantee of Irish bonds - The Irish Times - Fri, Jul 22
The circle below shows the gross external, or foreign, debt of some of the main players in the eurozone as well as other big world economies. The arrows show how much money is owed by each country to banks in other nations. The arrows point from the debtor to the creditor and are proportional to the money owed as of the end of June 2011. The colours attributed to countries are a rough guide to how much trouble each economy is in. Click on a country name to see who they owe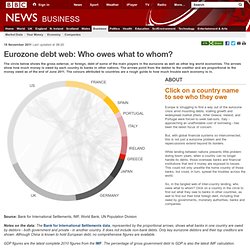 7 February 2012 Last updated at 12:48 ET By Justin Rowlatt Presenter, Business Daily, BBC World Service For decades the West has lectured the East on how to manage its economies.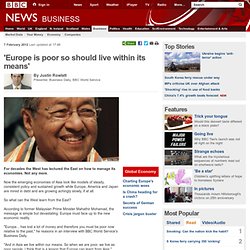 'Europe is poor so should live within its means'
Pay now, or trust in the future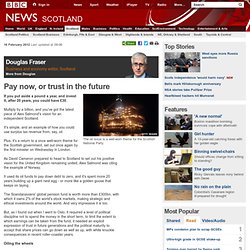 16 February 2012 Last updated at 04:06 ET The oil issue is a well-worn theme for the Scottish National Party If you put aside a pound a year, and invest it, after 20 years, you could have £30. Multiply by a billion, and you've got the latest piece of Alex Salmond's vision for an independent Scotland. It's simple, and an example of how you could use surplus tax revenue from, say, oil. Plus, it's a return to a once well-worn theme for the Scottish government, set out once again by the first minister on Wednesday in London.