Reading and writing
Go Book Yourself. Unscramble.net. From the Summits of Empire. IN THE EARLY HOURS OF 15 JANUARY 1934, an earthquake of magnitude 8.4 rocked Nepal and Bihar.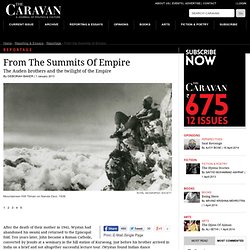 Fissures as much as five kilometres deep opened in the earth, exhaling a choking dust and swallowing hillsides and villages. Ten thousand people died without leaving their beds. Although Kathmandu was relatively unscathed, nearby Patan was upheaved; large portions of the prime minister's private palace were razed, and the town's Durbar Square filled up with rubble. If on a winter's night a traveler. If on a winter's night a traveler (Italian: Se una notte d'inverno un viaggiatore) is a 1979 novel by the Italian postmodernist writer Italo Calvino.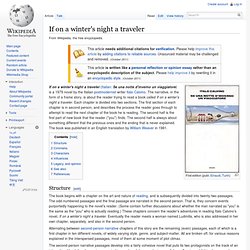 The narrative, in the form of a frame story, is about the reader trying to read a book called If on a winter's night a traveler. Each chapter is divided into two sections. The first section of each chapter is in second person, and describes the process the reader goes through to attempt to read the next chapter of the book he is reading. Trying to Say Goodbye. This is the long anticipated third collection of poems by Adil Jussawalla, who continues to be a seminal figure in post-independence Indian poetry.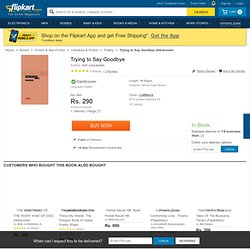 Jussawalla? S is an intimate but still sharp voice, fearless but melancholic, marked by a darting, wily syntax, bristling rhymes, and an original prosody. "Come closer to me, come closer, I promise you, it will be beautiful." Sometimes I wonder if the element that makes a good love story is the very kind of intrinsic impossibility that slits its own throat, the painful don't or won't or can't.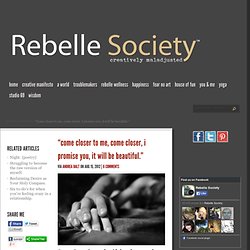 Does the sunshine need the shadow? Or does the shadow make up the sunshine? Www.amazon.com/Literate-Passion-Letters-Miller-1932-1953/dp/015652791X. National Geographic Adventure Mag.: 100 Greatest Adventure Books (1-19) A list we had hoped our readers would enjoy turned out to be one of the most popular features in Adventure's five-year history.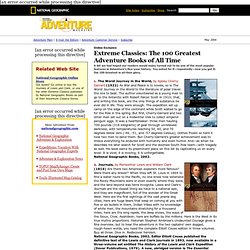 You asked for it—repeatedly—now you got it: the 100 Greatest in all their glory. 1.The Worst Journey in the World,by Apsley Cherry-Garrard(1922) As War and Peace is to novels, so is The Worst Journey in the World to the literature of polar travel: the one to beat. The author volunteered as a young man to go to the Antarctic with Robert Falcon Scott in 1910; that, and writing this book, are the only things of substance he ever did in life. They were enough. The expedition set up camp on the edge of the continent while Scott waited to go for the Pole in the spring. New Tab. Paris and literature go together like black polo necks and Gitanes Brunes.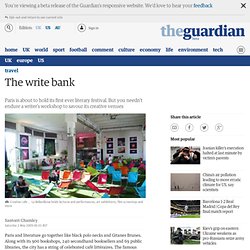 Along with its 900 bookshops, 240 secondhand booksellers and 69 public libraries, the city has a string of celebrated café littéraires. The famous ones - Les Deux Magots, Café de Flore and other Left Bank landmarks haunted by the ghosts of Sartre, Hemingway and Stein - may have been hijacked by tourists. But they aren't the whole story. The city is chocca with literary venues, from the well-known musty warren of Shakespeare and Company's bookshop, to alternative performance spaces, atmospheric tea shops and specialist museums.
Here's our pick of the best... List of unusual deaths. This is a list of unusual deaths.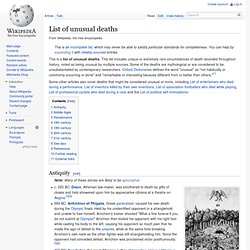 This list includes unique or extremely rare circumstances of death recorded throughout history, noted as being unusual by multiple sources. Some of the deaths are mythological or are considered to be unsubstantiated by contemporary researchers. Oxford Dictionaries defines the word "unusual" as "not habitually or commonly occurring or done" and "remarkable or interesting because different from or better than others. "[1] Anthology of English Literature.
11 Books You Should Read If You're A Woman In Your 20s. According to Love Twenty, women in their twenties are supposed to read diet books and novels about shopping.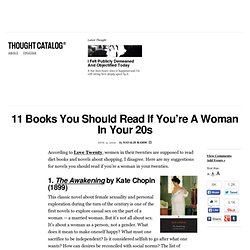 I disagree. Here are my suggestions for novels you should read if you're a woman in your twenties. Ann VanderMeer: The 13 Of The Weirdest Short Stories Ever Written. The Weird: A Compendium of Strange and Dark Stories [Tor, $29.99] contains 110 tales from the past 100 years of weird fiction collected in a single volume of over 750,000 words.
Over 20 nationalities are represented and seven new translations were commissioned for the book. This is the largest collection of weird fiction ever housed between the covers of one volume. A compendium is neither as complete as an encyclopedia nor as baggy as a treasury. Although the backbone of the book reflects the immense influence of both Kafka and Lovecraft, we have ventured from that basic focus to provide different traditions of weird fiction. Strands of The Weird represented include classic and mainstream weird tales, weird science fiction, weird ritual, international weird, and offshoots of the weird influenced by Surrealism, Symbolism, the Gothic, and the Decadent movement.
Free Audio Books - Fiction - Download mp3 and iPod format today! Character Chart for Fiction Writers - EpiGuide.com. If you're a fiction writer -- whether you're working on a novel, short story, screenplay, television series, play, web series, webserial, or blog-based fiction -- your characters should come alive for your reader or audience.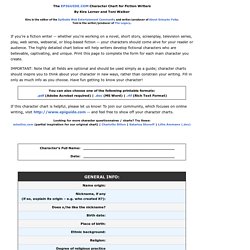 The highly detailed chart below will help writers develop fictional characters who are believable, captivating, and unique. Print this page to complete the form for each main character you create. IMPORTANT: Note that all fields are optional and should be used simply as a guide; character charts should inspire you to think about your character in new ways, rather than constrain your writing. Fill in only as much info as you choose. 12 bizarre real-life places that are stranger than science fiction. Science fiction is home to some fantastic societies, from Cloud City to Bartertown. But you doesn't have to leave reality for this—our own world has places so abnormal, they make alien societies seem ordinary.
Here are 12 remarkable locations in which people once lived (and some still do). 1. Www.oscarwildecollection.com. The 50 Best Short Stories of All Time. The short story is sometimes an under-appreciated art form. Within the space of a few pages, an author must weave a story that's compelling, create characters readers care about and drive the story to its ultimate conclusion — a feat that can be difficult to accomplish even with a great degree of savvy.
Yet these authors have mastered the art of the short story, turning condensed pieces into memorable works of literature that stick with readers long after they've finished. So if you're looking for something to read between classes, get you into literature or just keep you entertained, pick up one of these short stories. Sad and Shocking Tales These short stories prove that it doesn't take a whole novel to leave you stunned and still thinking about a narrative weeks after reading. Authorama - Public Domain Books. 23 Websites that Make Your Writing Stronger. We are all apprentices in a craft where no one ever becomes a master. ~Ernest Hemingway How strong is your writing? No matter how good you think it is, there's always room for improvement. The Fantastic in Art and Fiction. 25 Insights on Becoming a Better Writer :: Tips :: The 99 Percent.
When George Plimpton asked Ernest Hemingway what the best training for an aspiring writer would be in a 1954 interview, Hem replied, "Let's say that he should go out and hang himself because he finds that writing well is impossibly difficult. Then he should be cut down without mercy and forced by his own self to write as well as he can for the rest of his life. At least he will have the story of the hanging to commence with." Today, writing well is more important than ever. Far from being the province of a select few as it was in Hemingway's day, writing is a daily occupation for all of us — in email, on blogs, and through social media. It is also a primary means for documenting, communicating, and refining our ideas. Free Classic AudioBooks. Digital narration for the 21st Century.
Book-A-Minute Classics. 36 Writing Essays by Chuck Palahniuk. General Fiction. FullBooks.com - Thousands of Full-Text Free Books. How to Write a Novel Using the Snowflake Method. National Novel Writing Month.
Inspiration. Jack Kerouac's Essentials of Spontaneous Prose. Bibliomania - Free Online Literature and Study Guides. Print - The 75 Books Every Man Should Read. Exercises for Fiction Writers - Page 2.
---