Non-monogamy
Get flash to fully experience Pearltrees
Elizabeth* was basking in postcoital bliss when her husband, Chris, turned to her and asked, "Would you ever want to have sex with someone else?" They had been married for six months, together for nine years before that, and monogamous the whole time. True, they had toyed with the idea of a threesome, usually during dirty talk, but this was different.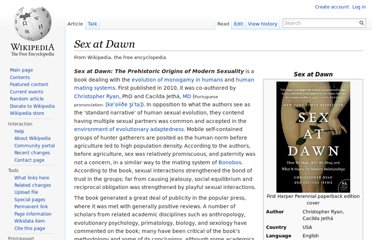 Sex at Dawn: The Prehistoric Origins of Modern Sexuality is a book co-authored by Christopher Ryan, Ph.D and Cacilda Jethá, MD ( Portuguese pronunciation: [kɐˈsiɫðɐ ʒɨˈta] ), first published in 2010 by the Harper imprint of HarperCollins . For the paperback, published July 5, 2011, the book's subtitle was changed to "How We Mate, Why We Stray, and What It Means for Modern Relationships."
The Ethical Slut: A Guide to Infinite Sexual Possibilities ( ISBN 1-890159-01-8 ) is an English language non-fiction book written by Dossie Easton and Janet Hardy (given as pseudonym Catherine A.