Outdoor
The Ultimate Hang | Hammock camping tips, reviews, and illustrations. DIY Gear Supply | Dream it – Design it – Build it. Www.gpx2kml.com: Free online www.gpx to kml converter.
Camper. How to use the iPhone 4 as a GPS mapping device for backpacking. Back to Adventure Alan's Ultralight Backpacking Home Page: This contains a wealth of information on backpacking with gear lists, trip reports, backpacking techniques for various weather and environments (cold rainy weather, alipine hiking, desert hiking), etc.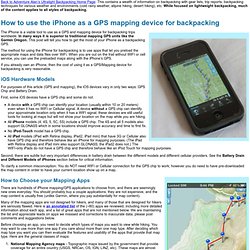 While focused on lightweight backpacking, much of the content applies to all styles of backpacking. The iPhone is a viable tool to use as a GPS and mapping device for backpacking trips worldwide. In many ways it is superior to traditional mapping GPS units like the Garmin Oregon. This post will tell you how to get the most of your iPhone as a backpacking GPS. Ultra Light Backpacking Gear | Ultra Light Alcohol Backpacking Stoves. Trail Designs | Purveyors of the finest in lightweight backpacking gear. Hennessy Hammock.
---