Startup
Anatec_io : Panorama of #FinTech startup ...
Advices Startup management. Advices marketing. Tool for startup. Social Entrepreneurship. Advices HR. Advices Finance. Managing Startups: Best Posts of 2011. 26 questions you have to answer correctly to get funding for your startup » WhoAPI blog. It's been a crazy week.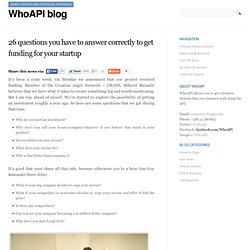 On Monday we announced that our project received funding. Member of the Croatian Angel Network – CRANE, Mihovil Barančić believes that we have what it takes to create something big and worth mentioning. But I am way ahead of myself. We've started to explore the possibility of getting an investment roughly a year ago. 7 Questions to Assess Your Business Model Design. Ultimately, customers are the only relevant judges of your business model.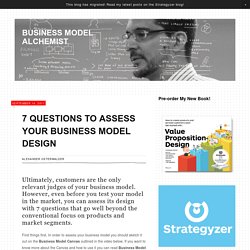 However, even before you test your model in the market, you can assess its design with 7 questions that go well beyond the conventional focus on products and market segments. First things first. In order to assess your business model you should sketch it out on the Business Model Canvas outlined in the video below. If you want to know more about the Canvas and how to use it you can read Business Model Generation of which 70 pages are available for free on our website. Assessing the basics. Entrepreneurship.
---