Innovation
4195255-revisiter-l-aide-au-developpement-17-12-2012
Podcast: Téléchargement
Podcast » NipTech Hors-Série 5 – La scène des startups suisses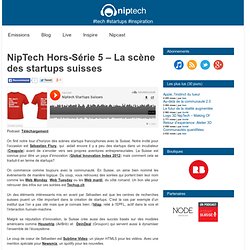 Wouldn't it be awesome if you could just drop a PDF in a folder and it would automatically show up on your Kindle? Or if imported photos automatically scaled themselves down to a smaller size? Or if your PDF documents automatically signed themselves?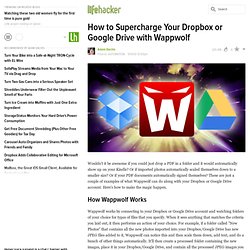 Praktikum im Bereich Marketing und Projektmanagement Ganz gleich, ob Du bei Deinem Studium in BWL, Kommunikationswissenschaften oder Marketing kurz vor dem Abschluss stehst oder bereits Berufsanfänger bist – wenn Dich die Vorstellung begeistert, echte Verantwortung in den Bereichen Marketing und Projektmanagement in einem jungen Startup zu übernehmen und Dich der Bildungsbereich interessiert, könnten wir perfekt zusammenpassen!
K.lab Berlin - Wir verwirklichen sinnvolle Ideen für bessere Bildung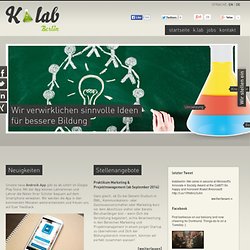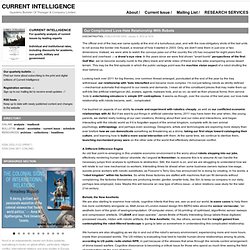 The official end of the Iraq war came quietly at the end of a tumultuous year, and with the now-obligatory shots of the last units to roll across the border into Kuwait, a reversal of how it started in 2003. Only, we didn't view them in just one or two dimensions. Instead, we were able to watch the convoys pass out of the country the US has occupied for eight years from behind and overhead — a drone's-eye view . In the years since we were first shown "smart bomb" perspectives of the first Gulf War , we've become socially numb to the jittery black and white video of friend and foe alike scampering across desert terrain.
Our Complicated Love-Hate Relationship With Robots - Analysis
11
favo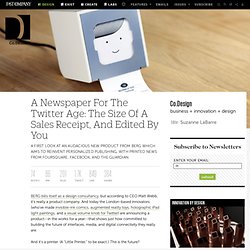 A Newspaper For The Twitter Age: The Size Of A Sales Receipt, And Edited By You | Co. Design
BERG bills itself as a design consultancy , but according to CEO Matt Webb, it's really a product company. And today the London-based innovators (who've made invisible-ink comics , augmented reality toys , holographic iPad light paintings , and a visual volume knob for Twitter ) are announcing a product--in the works for a year--that shows just how committed to building the future of interfaces, media, and digital connectivity they really are. And it's a printer. (A "Little Printer," to be exact.)