Berlin
Instagram
TawiPay
Instagram
Instagram
BriodF : Les désavantages de #Berlin
Twitter Briod François ‏ @ BriodF 6h Les désavantages de # Berlin ! Gruyère : faute dans le nom + prix salé cc @ lodhb pic.twitter.com/MsvGZ7R4oM Twitter Briod François ‏ @ BriodF 6h La survie au XXIe siècle # globetrotters # berlin pic.twitter.com/aXXKw5FiCP 3:11 AM - 3 Aug 13 Flagged (learn more) View photo Hide photo BriodF : La survie au XXIe siècle
Photo by briodf
Photo by briodf
Photo by briodf
am
am
am
am
am
Language: English Bahasa Indonesia Bahasa Melayu Dansk Deutsch
BriodF : Bonjour twitter ! #tempel am
Gidsy, le Airbnb de tous les loisirs
Lancé en fanfare mi-2011, est la dernière startup à la mode à Berlin. Comme Amen et SoudCloud , Gidsy a reçu des fonds d'Ashton Kutcher, un habitué de Berlin . Pourtant, le web francophone ne semble pas avoir fait l'écho de l'entreprise. . Monétiser ses passions Le concept de Gidsy est simple : « ». Les activités proposées sur Gidsy vont des visites guidées de la ville ou d'un musée aux cours de massage ou de cuisine.
ocnyghmj Shared by BriodF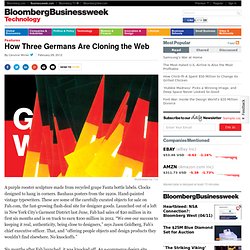 A purple rooster sculpture made from recycled grape Fanta bottle labels. Clocks designed to hang in corners. Bauhaus posters from the 1920s. Hand-painted vintage typewriters. These are some of the carefully curated objects for sale on Fab.com, the fast-growing flash-deal site for designer goods. Launched out of a loft in New York City's Garment District last June, Fab had sales of $20 million in its first six months and is on track to earn $100 million in 2012.
How Three Germans Are Cloning the Web
13.02.2012 10:05 Uhrvon Corinna Visser Bild vergrößern Earlybird investiert in junge Unternehmen in Europa. Ciarán O'Leary ist einer der Partner.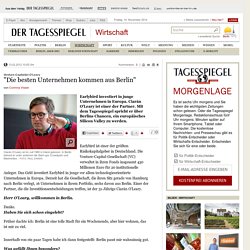 Venture-Capitalist O'Leary: "Die besten Unternehmen kommen aus Berlin" - Wirtschaft
How Berlin Became the Coolest City on the Planet
"New York in the '80s." "London at the height of Britpop." "Paris in the '30s." Berlin now. If you believe the hype, and you really should, Berlin is the coolest city on the planet. You can see it in the Metropolis futurism of Potsdamer Platz, home away from home for the red-carpet glitterati of Johnny Depp, Brad Pitt, Angelina Jolie and company.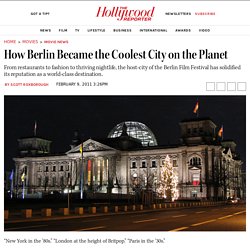 od2angcj Shared by BriodF
Internet-Start-ups: Angriff auf die Samwer-Brüder - SPIEGEL ONLINE - Nachrichten - Wirtschaft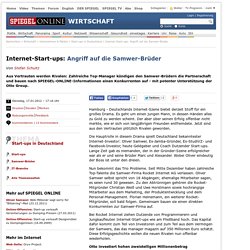 Hamburg - Deutschlands Internet-Szene bietet derzeit Stoff für ein großes Drama. Es geht um einen jungen Mann, in dessen Händen alles zu Gold zu werden scheint. Der aber über seinen Erfolg offenbar nicht merkte, wie er sich von langjährigen Freunden entfremdete. Jetzt sind aus den Vertrauten plötzlich Rivalen geworden. Die Hauptrolle in diesem Drama spielt Deutschland bekanntester Internet-Investor: Oliver Samwer, Ex-Jamba-Gründer, Ex-StudiVZ- und Facebook-Investor, heute Geldgeber und Coach Dutzender Start-ups. Lange Zeit gab es niemanden, der in der Gründer-Szene erfolgreicher war als er und seine Brüder Marc und Alexander.
Start-ups: Berlin euphorisiert die Gründerszene | Digital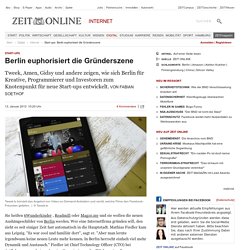 Tweek, Amen, Gidsy und andere zeigen, wie sich Berlin für Kreative, Programmierer und Investoren zum Knotenpunkt für neue Start-ups entwickelt. Speichern Drucken Twitter Facebook Google +
Politik Donnerstag, 29. Dezember 2011 Deutschland wird zunehmend attraktiv für Ausländer. Immer mehr Menschen aus den EU-Ländern strömen ins Land. Viele von ihnen gründen eigene Unternehmen und schaffen damit Arbeitsplätze.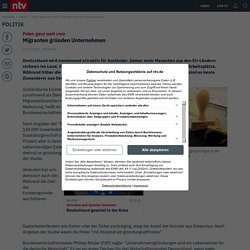 Polen ganz weit vorn: Migranten gründen Unternehmen
Earlybird closes Hamburg office to double-down on Berlin
If there's been a theme for the year it's that Berlin has emerged as a full-blown startup hub to rival London in terms of sheers number of companies. I know for a fact that all the major VCs, from Accel to Index to Balderton and others are in and out of the city on a regular basis. There's also a rumour Wellington will open an office there.
Something big is underway in Berlin's technology scene. Low rents and a creative vibe have lured a wave of young entrepreneurs to the city. But does the German capital really compare to East London as a start-up hub? As the beat of electronic music plays in the background a collection of hip twenty-somethings sit absorbed behind the screens of their MacBooks. St Oberholz is a cafe in Berlin's Mitte district that has the lively buzz of a place where young people meet and talk about adventures in Europe's party capital.
Berlin rivals London as 'start-up cluster' | Business | Deutsche Welle | 15.08.2011
SoundCloud's Berlin office has the same decor and whimsical vibe found throughout Silicon Valley's startups. BERLIN(CNNMoney) -- On the busy corner of Torstrasse, a street in the center of Berlin's Mitte district, a coffee shop called St. Oberholz serves as a meeting point and co-working space at what's fast becoming Europe's hottest startup hub.
Berlin: Europe's hottest startup hub - Aug. 9
Europe's hottest startup capitals: Berlin
Start-up in Berlin: Hauptstadt des Wagniskapitals - SPIEGEL ONLINE - Nachrichten - Netzwelt
Berlin, start-up de l'Europe