Desserts
Strawberry Pie. Shortbread Crust: Lightly butter, or spray with a vegetable spray, an 8 or 9 inch (20-23 cm) tart pan with a removable bottom.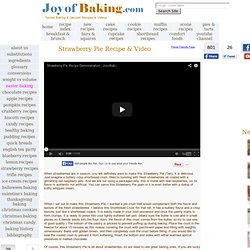 In your food processor, place the flour, sugar, and salt and process to combine. Add the cold butter and pulse until the pastry starts to come together and form clumps. Transfer the pastry to the prepared pan and, using your fingertips, evenly press the pastry onto the bottom and up the sides of the pan. (Can use the back of a spoon to smooth the surface of the pastry.) Perfect Buttercream. You know the scene – you're at a party, and it's time for the cake to be served.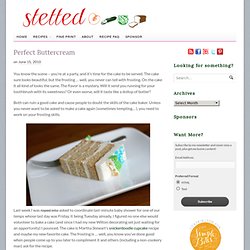 The cake sure looks beautiful, but the frosting … well, you never can tell with frosting. On the cake it all kind of looks the same. The flavor is a mystery. Cookie Cake Pie. Cookies, Cakes and Pies are basically the holy trinity of baked goods.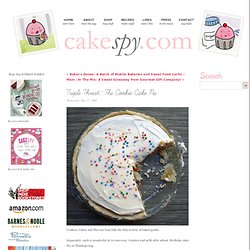 Separately, each is wonderful in its own way. Cookies and milk after school. Birthday cake. Pie at Thanksgiving. Chocolate Wafers. People, I am so excited about this recipe, it's pretty much all I can talk about this week.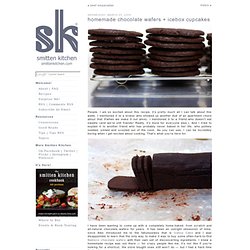 I mentioned it to a broker who showed us another dud of an apartment (more about that if/when we make it out alive). I mentioned it to a friend who doesn't eat sweets (and we're still friends! Really, it's more for everyone else.). Lemon Bars. Lemon Bars: Preheat oven to 350 degrees F (177 degrees C) and place the oven rack in the center of the oven.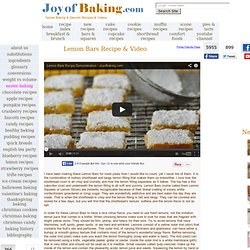 Butter, or spray with a non stick vegetable spray, an 8 x 8 inch (20 x 20 cm) pan. Shortbread Crust: In the bowl of your electric mixer, or with a hand mixer, beat the butter and sugar until creamy and smooth. Add the flour and salt and beat until the dough just starts to come together. Press onto the bottom of your prepared pan and bake for about 18 - 20 minutes, or just until lightly brown around the edges.
Strawberry Cream w/ Raspberry Jelly. Strawberry Cream: Place the thawed strawberries, sugar, and buttermilk in your food processor and process until very smooth.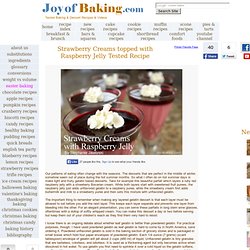 (Taste and add more sugar, if necessary.) Transfer this mixture to a medium sized saucepan and bring just to a boil, stirring constantly. Meanwhile, sprinkle the gelatin over 1/2 cup (120 ml) of cold water. Let this mixture sit for 5 - 10 minutes. Mini Oreo Cakes. Mini Chocolate and Oreo Cakes ~ This is the kind of cake that you won't be ashamed to beg for.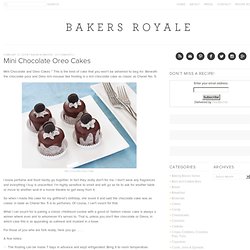 Beneath the chocolate pour and Oreo rich mousse like frosting is a rich chocolate cake as classic as Chanel No. 5. Mini Chocolate Oreo Cake I know perfume and food hardly go together. In fact they really don't for me. I don't wear any fragrances and everything I buy is unscented. Pumpkin Cheesecake. Pumpkin Cheesecake: Preheat oven to 350 degrees F (177degrees C) and place the oven rack in the center of the oven.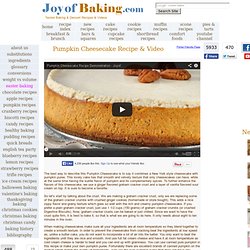 Butter, or spray with a non stick spray, an 8 inch (20 cm) spring form pan. Crust: In a medium sized bowl combine the graham cracker crumbs, crushed ginger cookies, sugar, and melted butter. French Apple Tart. Sweet Pastry Crust: Place the butter in your mixer and beat until softened.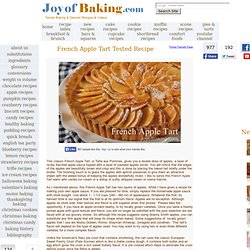 Add the sugar and beat until light and fluffy. Gradually add the egg, beating just until incorporated. (Don't over mix or the butter will separate and lighten in color.) Add flour and salt and mix just until it forms a ball. Red Velvet Cheesecake Brownies.
---