Selecting Fonts & Typefaces
Choose a comfortable measure | The Elements of Typographic Style Applied to the Web
" Anything from 45 to 75 characters is widely regarded as a satisfactory length of line for a single-column page set in a serifed text face in a text size.
Q: Do I have to buy a program to display Monotype Corsiva ? A: With Cascading Style Sheets there is no need to buy or distribute any software to set the text of your site to Monotype Corsiva . However, you should not use this cursive font for the main body text of your page, because it is not very legible at small scale. To set level three headings in this font, for example, use the following style rule: If the visitors to your site have Monotype Corsiva installed on their computer, they will see the headings in that font. If not, the final generic cursive font family should result in a cursive font being displayed.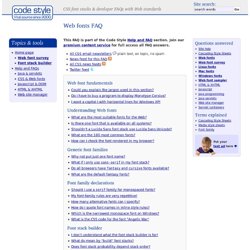 Web fonts frequently asked questions (FAQ)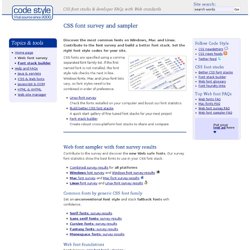 CSS font survey and sampler, the most common fonts for CSS font-family properties
Discover the most common fonts on Windows, Mac and Linux. Contribute to the font survey and build a better font stack. Set the right font style codes for your site. CSS fonts are specified using a comma separated font family list.
Is that font Web safe? Code Style font survey results show the most common fonts on Windows, Mac and Linux computers to help you build a Web safe font stack. The most common fonts The table below shows font survey results for all platforms, the cumulative total of all valid font survey submissions.
Most common fonts for Windows, Mac and Linux, font survey results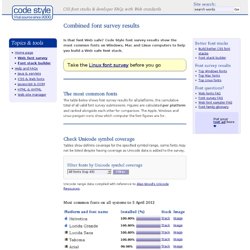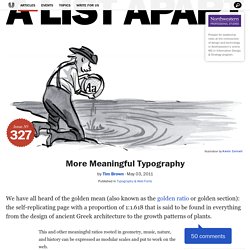 We have all heard of the golden mean (also known as the golden ratio or golden section): the self-replicating page with a proportion of 1:1.618 that is said to be found in everything from the design of ancient Greek architecture to the growth patterns of plants.
Fontularity: Most Popular Fonts by Operating System [Infographic]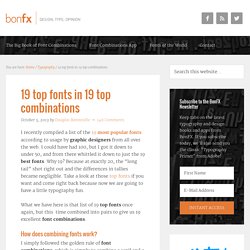 I recently compiled a list of the 19 most popular fonts according to usage by graphic designers from all over the web. I could have had 100, but I got it down to under 50, and from there whittled it down to just the 19 best fonts . Why 19?