CMS - Content Management Systems
Joomla
Drupal. WordPress. A Checklist for Content Work. In content strategy, there is no playbook of generic strategies you can pick from to assemble a plan for your client or project.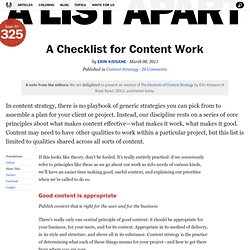 Instead, our discipline rests on a series of core principles about what makes content effective—what makes it work, what makes it good. Content may need to have other qualities to work within a particular project, but this list is limited to qualities shared across all sorts of content. If this looks like theory, don't be fooled. It's really entirely practical: if we consciously refer to principles like these as we go about our work as info-nerds of various kinds, we'll have an easier time making good, useful content, and explaining our priorities when we're called to do so.
Open Source CMS Demos & Information. Enterprise Content Management (ECM) List of content management systems. This is a list of notable content management systems that are used to organize and facilitate collaborative content creation.
Many of them are built on top of separate content management frameworks. Open source software[edit] This section lists free and open-source software to be installed and managed on your supplied web server. Collaboration Software for the Enterprise - SharePoint 2010. SharePoint Online With Office 365, SharePoint offers enhanced security technologies, is easy to manage, and can be accessed from almost anywhere.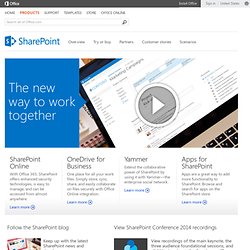 OneDrive for Business.
---