Politics
The NAACP exposes voter suppression schemes | Kay Dilday | Comment is free
A woman votes in Miami Shores during the Florida primary in 2008. Photograph: Marc Serota/Getty Images The NAACP will be sending a delegation to the United Nations Commissioner of Human Rights alleging a concerted effort to deny voting rights to black and hispanic Americans. Given how rarely anyone in the United States looks to the United Nations for justice, and how often the United States ignores the UN, this is both a significant and futile effort.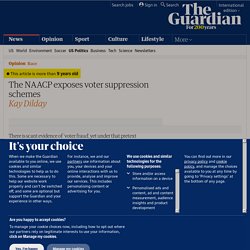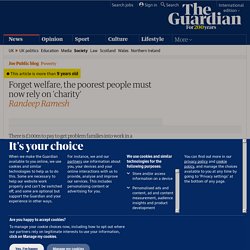 The government is inviting companies, charities and social enterprises to lead families out of dysfunction. For all the talk of helping the most troubled families among us, the 120,000 households that make up the so-called underclass are going to be facing tough love from the coalition government. David Cameron's post-riot response is to revive a Blairite notion of social obligation. In New Labour's view, welfare failed the very poorest people because it obliged them to take but not give back.
Forget welfare, the poorest people must now rely on 'charity' | Society
Files Note Close C.I.A. Ties to Qaddafi Spy Unit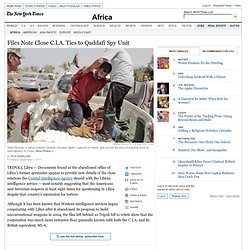 Moises Saman for The New York Times Walid Musbah, a self-proclaimed Qaddafi volunteer fighter captured by rebels, was put into the back of a pickup truck by rebel fighters on Friday. More Photos » Although it has been known that Western intelligence services began cooperating with Libya after it abandoned its program to build unconventional weapons in 2004, the files left behind as Tripoli fell to rebels show that the cooperation was much more extensive than generally known with both the C.I.A. and its British equivalent, MI-6. Some documents indicate that the British agency was even willing to trace phone numbers for the Libyans, and another appears to be a proposed speech written by the Americans for Col. about renouncing unconventional weapons.
Sol Sanders | Follow the money No. 81 | The Great American Heresy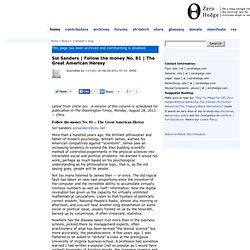 Latest from Uncle Sol. A version of this column is scheduled for publication in The Washington Times, Monday, August 28, 2011. -- Chris Follow the money No. 81 -- The Great American Heresy Sol Sanders solsanders@cox.net More than a hundred years ago, the brilliant philosopher and father of modern psychology, William James, warned his American compatriots against "scientism". James saw an increasing tendency to extend the then budding scientific method of controlled experiments in the physical sciences into intractable social and political problems.
Photo Credit: Bigstockphoto.com 1. The best way to make your dreams come true is to wake up.
25 Profound Motivational Quotes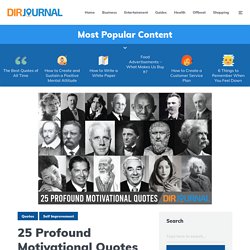 Facts_50
After the riots: tough tactics to uproot London's gangs | UK news
" Police ! Stand still! Police!" Shortly after 6.30am on Friday, the dawn quiet of a cul-de-sac in Walthamstow was shattered by the arrival of Operation Connect officers at a nondescript terraced house with net curtains at the windows. With the might of a hardened steel enforcer ram, they broke open the door and piled into the house.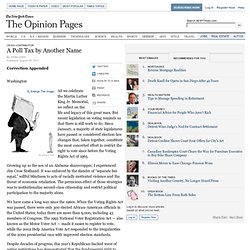 AS we celebrate the Martin Luther King Jr. Memorial, we reflect on the life and legacy of this great man. But recent legislation on voting reminds us that there is still work to do. Since January, a majority of state legislatures have passed or considered election-law changes that, taken together, constitute the most concerted effort to restrict the right to vote since before the Voting Rights Act of 1965. Growing up as the son of an Alabama sharecropper, I experienced Jim Crow firsthand. It was enforced by the slander of "separate but equal," willful blindness to acts of racially motivated violence and the threat of economic retaliation.
A Poll Tax by Another Name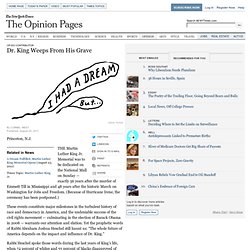 Martin Luther King Jr. Would Want a Revolution, Not a Memorial
THE Martin Luther King Jr. Memorial was to be dedicated on the National Mall on Sunday — exactly 56 years after the murder of Emmett Till in Mississippi and 48 years after the historic March on Washington for Jobs and Freedom. (Because of Hurricane Irene, the ceremony has been postponed.) These events constitute major milestones in the turbulent history of race and democracy in America, and the undeniable success of the civil rights movement — culminating in the election of Barack Obama in 2008 — warrants our attention and elation. Yet the prophetic words of Rabbi Abraham Joshua Heschel still haunt us: "The whole future of America depends on the impact and influence of Dr. King."
NATO nations set to reap spoils of Libya war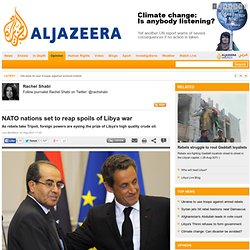 It looks like the more telling news on Libya has migrated to the business pages. With jubilant reporting of Gaddafi's imminent downfall seizing headlines, it's the financial pages that have the clinical analysis. So, for instance, it is in this section that the Independent reports a " dash for profit in the post-war Libya carve up ". Similarly, Reuters, under the headline, " Investors eye promise, pitfalls in post-Gaddafi Libya " noted that a new government in that country could "herald a bonanza for Western companies and investors". Before Tripoli has completely fallen, before Gaddafi and his supporters have stepped down and before the blood dries on the bodies that have yet to be counted, Western powers are already eyeing up what they view us just rewards for the intervention.
News from The Associated Press
Some of WikiLeaks' Bank of America data destroyed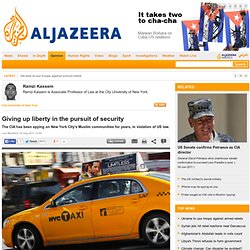 Hosting a reception for members of New York City's Muslim communities in his mansion on Tuesday night, Mayor Michael Bloomberg eloquently described Muslims as an inalienable part of our great city's fabric. By Wednesday morning, however, many of us who attended that reception would have been forgiven for thinking that we actually lived in a nightmarish American avatar of Kim Jong-Il's Korea. Indeed, an extensive investigation by the Associated Press raises alarming questions about the NYPD and CIA, hand in hand, breaching some of the most important bulwarks of an open and free society.
Giving up liberty in the pursuit of security
Jim Watson/Agence France-Presse — Getty Images This possibility scared me because I knew, with a furious surety, that if she went on to win the presidency, I and the handful of other Clinton supporters in my privileged, mediacentric, Obama-drunk circle would be forced to spend the next four to eight years hearing the words "We told you so," spoken at various accusatory pitches. Every time she made a compromise, lost a battle or started a war, those of us who had — often shamefacedly — proclaimed a preference for her would have to answer for it, and more profoundly, have to answer for the dream we dashed. We would have to apologize to the world for robbing it of an imagined Barack Obama presidency.
What Would Hillary Clinton Have Done?