PAPER
Magazine Bowls | How To | Cut Out. Fun and Interesting Place - Paper Sculptures. Paper Mache Dragon Trophy. Crazy paper thing - StumbleUpon. Paper Art - 100 Extraordinary Examples of Paper Art | Webdesigner Depot - StumbleUpon. Paper art can be traced back to Japan, where it originated over a thousand years ago.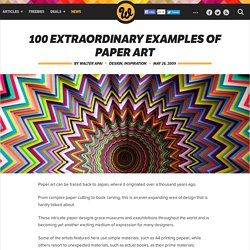 From complex paper cutting to book carving, this is an ever expanding area of design that is hardly talked about. These intricate paper designs grace museums and exauhibitions throughout the world and is becoming yet another exciting medium of expression for many designers. Carved Book Landscapes by Guy Laramee. (click images for detail) For the better part of three decades multidisciplinary artist Guy Laramee has worked as a stage writer, director, composer, a fabricator of musical instruments, a singer, sculptor, painter and writer.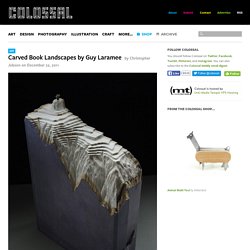 Among his sculptural works are two incredible series of carved book landscapes and structures entitled Biblios and The Great Wall, where the dense pages of old books are excavated to reveal serene mountains, plateaus, and ancient structures. Stunning Cut-Out Book Art By Brian Dettmer That Will Leave You Scratching Your Head | blurppy. Artist Brian Dettmer is a talented artist and his media of choice happens to be books.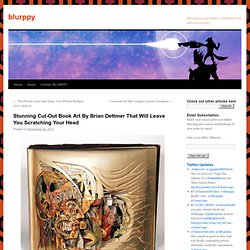 With a little bit of careful carving, he can make amazing creations from already printed pages. While there are a number of artists who work with books, it seems safe to say that Brian has definately earned his nickname " the book surgeon." (Is it just me or does that sound like a bad guy from the hit TV show Dexter.) Artist Creates Paper Zoo. It was only a matter of time before Calvin Nicholls' life-long passion in art and wildlife combined!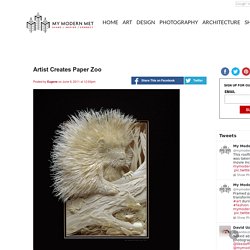 The Canadian has been a full-time paper sculpture artist since the mid-1980's. With such a variety of animals in his collection, he's essentially created his own paper zoo. Paper sculptures by Anna-Wili Highfield | Yatzer™ Image Courtesy of Anna-Will Highfield One look at the sculptures of Anna-Wili Highfield, and you are mesmerized by the craftsmanship.
Highfield is a figurative artist based out of Sydney, Australia who creates magnificent sculptures of animals using paper or copper wire. Horses and birds appear to be her favorite subjects, and each one holds unto itself a different personality. portrait of Anna-Will Highfield "I like materials that have a bit of resistance to them.
---