Jokes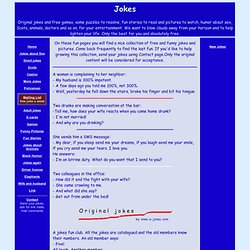 On these fun pages you will find a nice collection of free and funny jokes and pictures. Come back frequently to find the last fun. If you'd like to help growing this collection, send your jokes using Contact page.Only the original content will be considered for acceptance. A woman is complaining to her neighbor: - My husband is 300% impotent. - A few days ago you told me 100%, not 300%. - Well, yesterday he fell down the stairs, broke his finger and bit his tongue. Two drunks are making conversation at the bar: -Tell me, how does your wife reacts when you come home drunk? - I'm not married!
Jokes - the best jokes, humor, fun stories, pictures and free games
Jokes For Free.com - Free Jokes, Funny Pictures and Cartoons
Hilarious Jokes
DARWIN AWARD: Newcastle Icicle (31 March 2013, Newcastle, England) Investigative journalism reaches a new "low" when a reporter freezes to death in an effort to get inside the lives of those who sleep rough... DARWIN AWARD: Smokin' Hot Sauce! Thinking he was drinking alcohol, Gary picked up a salsa jar and took a swig of gasoline. After spitting it up onto his clothing, he recovered from the shock by lighting a cigarette...